Radio Hauraki Presents Bruce Springsteen And The E Street Band Live In NZ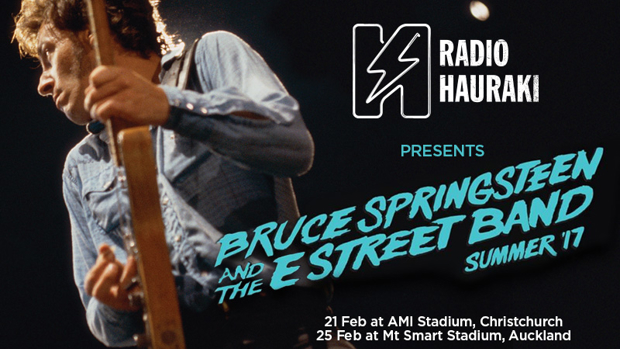 Radio Hauraki and Frontier Touring are thrilled to announce the highly anticipated return of Bruce Springsteen and the E Street Band to New Zealand.

Wanna win tickets? CLICK HERE
Last on our shores in 2014 for a sold out run of shows, the summer of 2017 will see Bruce and his legendary band return to Auckland and – for the very first time – Christchurch.
Sure to be a special and emotive concert for everyone in attendance, Bruce and the E Street Band will perform at Christchurch's AMI Stadium on the eve of the 2011 Christchurch earthquake anniversary.  In the wake of the devastating earthquake Bruce's song 'My City Of Ruins' became a poignant and inspirational unofficial anthem for the city.
Named the top global touring act of 2016 by both Billboard and Pollstar, Bruce Springsteen and the E Street Band have sold close to 2 million tickets in 2016 alone. 
If the tour seems too far away, Springsteen fans can treat themselves to some quality time with Bruce with the release of his autobiography 'Born To Run' (out September 27 through Simon & Schuster) and the its audio companion 'Chapter And Verse' (out September 23 through Sony Australia).  Bruce first began working on the autobiography in 2009, after performing at the Super Bowl's halftime show.  The 500-page autobiography promises a glimpse behind the scenes at the extraordinary life of Bruce Springsteen.  'Chapter And Verse' features 18 tracks from across Bruce's career, including 5 previously unreleased songs.
 Tue 21 February          Christchurch | AMI Stadium SOLD OUT
                                    Ticketek.co.nz 0800 842 538 | On sale Fri 23 Sep noon local
Here's info on the best way to get into and out of the gig on the night.
Sat 25 February           Auckland | Mt Smart
                                    Ticketmaster.co.nz 0800 111 999 | On sale Fri 23 Sep 1pm local