The Top 300 songs of the 2000s
Publish Date

Monday, 10 April 2017, 10:59AM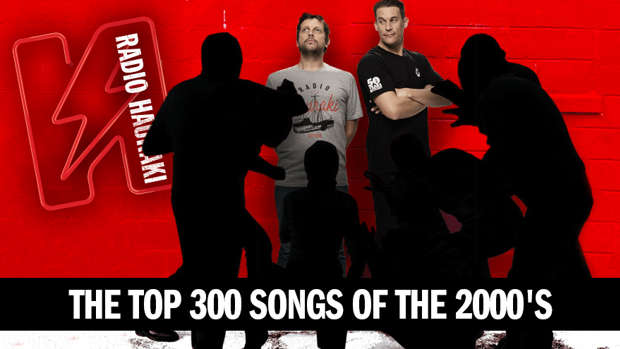 Last week on we counted down the top 300 songs of the 90s. What was number one?

It was Nirvana's Smells Like Teen Spirit!

This week on Radio Hauraki, we have been counting down the top 300 songs of the 2000s! The decade that gave us George Bush, 9/11, Beiber and Matt Heath on Back Of The Y Masterpiece Television, also ruled. 
Angelina and Greg counted down from 10am-4pm each day, and wrapped it up on Friday afternoon with the number one song of the 2000s which is The White Stripes with Seven Nation Army.

Listen to the full playlist here! 
Part 1 - 

Part 2 - 
And here's the full list of the top 300 songs of the 2000's - 
| | | |
| --- | --- | --- |
| 300 | 3 LIBRAS | A PERFECT CIRCLE |
| 299 | TURNAROUND remix | AHORIBUZZ |
| 298 | LAREDO | BAND OF HORSES |
| 297 | DANGEROUS | BIG DATA |
| 296 | LOVE IS ONLY A FEELING | THE DARKNESS |
| 295 | DON'T STOP | FOSTER THE PEOPLE |
| 294 | SEDONA | HOUNDMOUTH |
| 293 | SIRENS | PEARL JAM |
| 292 | BURN UP THE ROAD | LIAM FINN |
| 291 | OLDEST TRICK IN THE BOOK | MOTOCADE |
| 290 | MY GOD IS THE SUN | QUEENS OF THE STONE AGE |
| 289 | OUT OF THE BLACK | ROYAL BLOOD |
| 288 | LES ARTISTES | SANTIGOLD |
| 287 | HUMAN | THE KILLERS |
| 286 | KING KONG | VOOM |
| 285 | I ONLY WANT YOU | EAGLES OF DEATH METAL |
| 284 | BANDAGES | HOT HOT HEAT |
| 283 | K | THE TUTTS |
| 282 | DONT WANNA FIGHT | ALABAMA SHAKES |
| 281 | DEATH BY DIAMONDS AND PEARLS | BAND OF SKULLS |
| 280 | SOUTHERN SUN | BOY AND BEAR |
| 279 | SHAKE ME DOWN | CAGE THE ELEPHANT |
| 278 | BLOWING DIRT | GOODSHIRT |
| 277 | ON MELANCHOLY HILL | GORILLAZ |
| 276 | NOBODY TO LOVE | JOSH HOMME |
| 275 | BURNING | KORA |
| 274 | FEELS LIKE WE ONLY GO BACKW... | TAME IMPALA |
| 273 | TICK TICK BOOM | THE HIVES |
| 272 | HAPPY IDIOT | TV ON THE RADIO |
| 271 | WEAPON OF CHOICE | FATBOY SLIM |
| 270 | FRONTIER PSYCHIATRIST | THE AVALANCHES |
| 269 | SPREAD YOUR LOVE | BLACK REBEL MOTORCYCLE ... |
| 268 | 11TH DIMENSION | JULIAN CASABLANCAS |
| 267 | STOLEN DANCE | MILKY CHANCE |
| 266 | YOU WERE RIGHT | RUFUS |
| 265 | DISPARATE YOUTH | SANTIGOLD |
| 264 | THE GREATEST VIEW | SILVERCHAIR |
| 263 | DOMINOS | THE BIG PINK |
| 262 | ALL OF THIS | THE NAKED AND FAMOUS |
| 261 | TEN TONNE SKELETON | ROYAL BLOOD |
| 260 | BE YOURSELF | AUDIOSLAVE |
| 259 | AINT NO REST FOR THE WICKED | CAGE THE ELEPHANT |
| 258 | BUCK IT UP | GOODSHIRT |
| 257 | ZEBRA | JOHN BUTLER TRIO |
| 256 | WORLD WIDE SUICIDE | PEARL JAM |
| 255 | COME ON OVER | ROYAL BLOOD |
| 254 | JENNY WAS A FRIEND OF MINE | THE KILLERS |
| 253 | FLOW | KORA |
| 252 | NEW SLANG | THE SHINS |
| 251 | GOT THE JU | WETA |
| 250 | THE TIDE THAT LEFT & NEVER C... | THE VEILS |
| 249 | PERFECT SITUATION | WEEZER |
| 248 | NO WAY BACK | FOO FIGHTERS |
| 247 | STRAIGHT LINES | SILVERCHAIR |
| 246 | GIVE UP YOUR DREAMS | THE PHOENIX FOUNDATION |
| 245 | HONESTLY | ZWAN |
| 244 | LAST RESORT | PAPA ROACH |
| 243 | WHEN THE SUN GOES DOWN | ARCTIC MONKEYS |
| 242 | READY TO DIE | THE CHECKS |
| 241 | REPTILIA | THE STROKES |
| 240 | IS THERE A GHOST | BAND OF HORSES |
| 239 | ISLAND IN THE SUN | WEEZER |
| 238 | CHEMICAL HEART | GRINSPOON |
| 237 | RIPTIDE | VANCE JOY |
| 236 | DOESN'T REMIND ME | AUDIOSLAVE |
| 235 | 10000 EMERALD POOLS | BORNS |
| 234 | EVERLASTING LIGHT | THE BLACK KEYS |
| 233 | KEEP ON PUSHING | THE BLACK SEEDS |
| 232 | BUFFALO | THE PHOENIX FOUNDATION |
| 231 | FIGHT OUTTA YOU | BEN HARPER |
| 230 | WALK | FOO FIGHTERS |
| 229 | MINORITY | GREEN DAY |
| 228 | SWEETNESS | JIMMY EAT WORLD |
| 227 | LIKE A STONE | AUDIOSLAVE |
| 226 | SECOND CHANCE | LIAM FINN |
| 225 | WALKIE TALKIE MAN | STERIOGRAM |
| 224 | CRYSTAL | NEW ORDER |
| 223 | BEVERLY HILLS | WEEZER |
| 222 | BREEZEBLOCKS | ALT J |
| 221 | FAKE TALES OF SAN FRANCISCO | ARCTIC MONKEYS |
| 220 | I STILL REMEMBER | BLOC PARTY |
| 219 | WE USED TO BE FRIENDS | DANDY WARHOLS |
| 218 | ROADY | FAT FREDDYS DROP |
| 217 | 19 2000 | GORILLAZ |
| 216 | NIGHTCALL | KAVINSKY |
| 215 | MOLLYS CHAMBER | KINGS OF LEON |
| 214 | LITTLE BLACK SUBMARINES | THE BLACK KEYS |
| 213 | DAKOTA | STEREOPHONICS |
| 212 | ORIGINAL FIRE | AUDIOSLAVE |
| 211 | LATE NIGHT | FOALS |
| 210 | THE ONE | FOO FIGHTERS |
| 209 | MEGALOMANIAC | INCUBUS |
| 208 | NUMB ENCORE | JAY Z/LINKIN PARK |
| 207 | RED MORNING LIGHT | KINGS OF LEON |
| 206 | 1251 | THE STROKES |
| 205 | DEAD LEAVES AND THE DIRTY GROUND | THE WHITE STRIPES |
| 204 | WARNING | GREEN DAY |
| 203 | KNIGHTS OF CYDONIA | MUSE |
| 202 | MAD WORLD | GARY JULES |
| 201 | IF I HAD A TAIL | QUEENS OF THE STONE AGE |
| 200 | DICE | FINLAY QUAYE |
| 199 | HOWLING FOR YOU | THE BLACK KEYS |
| 198 | HANG ME UP TO DRY | COLD WAR KIDS |
| 197 | WITH MY OWN TWO HANDS | BEN HARPER |
| 196 | SAIL | AWOLNATION |
| 195 | MIDNIGHT CITY | M83 |
| 194 | JUST BECAUSE | JANES ADDICTION |
| 193 | LOVE BURNS | BLACK REBEL MOTORCYCLE ... |
| 192 | PLACE TO BE | GOODSHIRT |
| 191 | COME A LITTLE CLOSER | CAGE THE ELEPHANT |
| 190 | I SAT BY THE OCEAN | QUEENS OF THE STONE AGE |
| 189 | STAND INSIDE YOUR LOVE | SMASHING PUMPKINS |
| 188 | EVERYTHING IN ITS RIGHT PLACE | RADIOHEAD |
| 187 | SLITHER | VELVET REVOLVER |
| 186 | FIRE | THE BLACK SEEDS |
| 185 | LITTLE MONSTER | ROYAL BLOOD |
| 184 | WHAT YOU HEARD | THE CHECKS |
| 183 | LET IT HAPPEN | TAME IMPALA |
| 182 | COCHISE | AUDIOSLAVE |
| 181 | PAPER PLANES | M.I.A |
| 180 | SUPERMASSIVE BLACK HOLE | MUSE |
| 179 | BURN THE WITCH | RADIOHEAD |
| 178 | SMILE LIKE YOU MEAN IT | THE KILLERS |
| 177 | WALK IDIOT WALK | THE HIVES |
| 176 | RADIOACTIVE | IMAGINE DRAGONS |
| 175 | ROPE | FOO FIGHTERS |
| 174 | LEFT HAND FREE | ALT J |
| 173 | ON CALL | KINGS OF LEON |
| 172 | JERK IT OUT | CAESARS |
| 171 | ONE WILL HEAR THE OTHER | SHIHAD |
| 170 | SO ALIVE | RYAN ADAMS |
| 169 | JOKER AND THE THIEF | WOLFMOTHER |
| 168 | CRYSTALISED | THE XX |
| 167 | GREEN | GOODSHIRT |
| 166 | NO YOU GIRLS | FRANZ FERDINAND |
| 165 | EXTREME WAYS | MOBY |
| 164 | READ MY MIND | THE KILLERS |
| 163 | VERONA | ELEMENO P |
| 162 | LONG ROAD TO RUIN | FOO FIGHTERS |
| 161 | HOLIDAY | GREEN DAY |
| 160 | ALL IN AN AFTERNOON | THE PHOENIX FOUNDATION |
| 159 | COLD HARD BITCH | JET |
| 158 | MS JACKSON | OUTKAST |
| 157 | IN THE END | LINKIN PARK |
| 156 | SHORT SKIRT LONG JACKET | CAKE |
| 155 | NAIVE | THE KOOKS |
| 154 | HYSTERIA | MUSE |
| 153 | CLOCKS | COLDPLAY |
| 152 | THE DEVIL TAKES CARE OF HIS O... | BAND OF SKULLS |
| 151 | FIRST IT GIVETH | QUEENS OF THE STONE AGE |
| 150 | DRIVE | INCUBUS |
| 149 | THE BUCKET | KINGS OF LEON |
| 148 | I BELIEVE IN A THING CALLED LOVE | THE DARKNESS |
| 147 | EVERY OTHER FRECKLE | ALT J |
| 146 | WAKE ME UP WHEN SEPTEMBER ... | GREEN DAY |
| 144 | GET LUCKY | DAFT PUNK/PHARRELL/NILE ... |
| 143 | WHYD YOU ONLY CALL ME WHEN ... | ARCTIC MONKEYS |
| 142 | LONG WHITE CROSS | PLUTO |
| 141 | SOUTH SIDE | MOBY |
| 140 | GENERATOR | FOO FIGHTERS |
| 139 | IN COLOUR | SHAPESHIFTER |
| 138 | GET FREE | THE VINES |
| 137 | MAPS | YEAH YEAH YEAHS |
| 136 | TRIBUTE | TENACIOUS D |
| 135 | LISZTOMANIA | PHOENIX |
| 134 | STEADY AS SHE GOES | THE RACONTEURS |
| 133 | MR E'S BEAUTIFUL BLUES | EELS |
| 132 | SHOW ME HOW TO LIVE | AUDIOSLAVE |
| 131 | WIDE OPEN | CHEMICAL BROTHERS |
| 130 | FIRST | COLD WAR KIDS |
| 129 | THE MIDDLE | JIMMY EAT WORLD |
| 128 | GO WITH THE FLOW | QUEENS OF THE STONE AGE |
| 127 | PUSH ON THRU | SALMONELLA DUB |
| 126 | FIGURE IT OUT | ROYAL BLOOD |
| 125 | CLUB FOOT | KASABIAN |
| 124 | WHEN YOU WERE YOUNG | THE KILLERS |
| 123 | REBELLION (Lies) | ARCADE FIRE |
| 122 | ARABELLA | ARCTIC MONKEYS |
| 121 | HARD SUN | EDDIE VEDDER |
| 120 | MY DELERIUM | LADYHAWKE |
| 119 | PLUG IN BABY | MUSE |
| 118 | AMONGST THE WAVES | PEARL JAM |
| 117 | ALL THESE THINGS IVE DONE | THE KILLERS |
| 116 | SUPERSTYLIN | GROOVE ARMADA |
| 115 | CAN'T STOP | RED HOT CHILI PEPPERS |
| 114 | CLINT EASTWOOD | GORILLAZ |
| 113 | BULLITPROOF | SHIHAD |
| 112 | WHAT'S GOLDEN | JURASSIC 5 |
| 111 | EVIL | INTERPOL |
| 110 | YELLOW | COLDPLAY |
| 109 | THE LOST ART OF KEEPING A SE... | QUEENS OF THE STONE AGE |
| 108 | WE ARE THE PEOPLE | EMPIRE OF THE SUN |
| 107 | BOULEVARD OF BROKEN DREAMS | GREEN DAY |
| 106 | SOMEDAY | THE STROKES |
| 105 | GO | CHEMICAL BROTHERS |
| 104 | DOG DAYS ARE OVER | FLORENCE AND THE MACHINE |
| 103 | THE PRETENDER | FOO FIGHTERS |
| 102 | INHALER | FOALS |
| 101 | THE HARDEST BUTTON TO BUTT... | THE WHITE STRIPES |
| 100 | DREAMS | BECK |
| 99 | ROYALS | LORDE |
| 98 | THE MISSION | PUSCIFER |
| 97 | BREAKOUT | FOO FIGHTERS |
| 96 | ELEPHANT | TAME IMPALA |
| 95 | HARD TO EXPLAIN | THE STROKES |
| 94 | DO YOU REALISE?? | THE FLAMING LIPS |
| 93 | DIAMONDS ON THE INSIDE | BEN HARPER |
| 92 | DANCE STAMINA | PLUTO |
| 91 | WAKE UP | ARCADE FIRE |
| 90 | AMERICAN IDIOT | GREEN DAY |
| 89 | THE SEED (2.0) | THE ROOTS |
| 88 | SLOW HANDS | INTERPOL |
| 87 | BLEED IT OUT | LINKIN PARK |
| 86 | OVER AND OVER | HOT CHIP |
| 85 | KIDS | MGMT |
| 84 | BYOB | SYSTEM OF A DOWN |
| 83 | SOPHIE | GOODSHIRT |
| 82 | HATE TO SAY I TOLD YOU SO | THE HIVES |
| 81 | BY THE WAY | RED HOT CHILI PEPPERS |
| 80 | E PRO | BECK |
| 79 | TIME IS RUNNING OUT | MUSE |
| 78 | THE FIXER | PEARL JAM |
| 77 | FANS | KINGS OF LEON |
| 76 | LITTLE SISTER | QUEENS OF THE STONE AGE |
| 75 | SOMEBODY THAT I USED TO KNO... | GOTYE |
| 74 | LET IT DIE | FOO FIGHTERS |
| 73 | R U MINE | ARCTIC MONKEYS |
| 72 | LAST FIGHT | VELVET REVOLVER |
| 71 | TIGHTEN UP | THE BLACK KEYS |
| 70 | TESTIFY | RAGE AGAINST THE MACHINE |
| 69 | I BET YOU LOOK GOOD ON THE D... | ARCTIC MONKEYS |
| 68 | BOHEMIAN LIKE YOU | DANDY WARHOLS |
| 67 | ALL MY LIFE | FOO FIGHTERS |
| 66 | HEY YA | OUTKAST |
| 65 | I PREDICT A RIOT | KAISER CHIEFS |
| 64 | MAKE IT WIT U | QUEENS OF THE STONE AGE |
| 63 | WANDERING EYE | FAT FREDDYS DROP |
| 62 | USE SOMEBODY | KINGS OF LEON |
| 61 | STARLIGHT | MUSE |
| 60 | ELECTRIC FEEL | MGMT |
| 59 | MY HAPPINESS | POWDERFINGER |
| 58 | DARE | GORILLAZ |
| 57 | CALIFORNICATION | RED HOT CHILI PEPPERS |
| 56 | YOUNG FOLKS | PETER BJORN AND JOHN |
| 55 | LONELY BOY | THE BLACK KEYS |
| 54 | WALKING ON A DREAM | EMPIRE OF THE SUN |
| 53 | CHOP SUEY! | SYSTEM OF A DOWN |
| 52 | GALVANISE | CHEMICAL BROTHERS |
| 51 | CAN'T STAND ME NOW | THE LIBERTINES |
| 50 | WHERE'S YOUR HEAD AT | BASEMENT JAXX |
| 49 | FALL TO PIECES | VELVET REVOLVER |
| 48 | BLOOD BUZZ OHIO | THE NATIONAL |
| 47 | PUMPED UP KICKS | FOSTER THE PEOPLE |
| 46 | ARE YOU GONNA BE MY GIRL | JET |
| 45 | HAND THAT FEEDS | NINE INCH NAILS |
| 44 | WELCOME TO THE BLACK PARADE | MY CHEMICAL ROMANCE |
| 43 | HARMONIC GENERATOR | THE DATSUNS |
| 42 | 1901 | PHOENIX |
| 41 | COMFORT ME | SHIHAD |
| 40 | FELL IN LOVE WITH A GIRL | THE WHITE STRIPES |
| 39 | THE POT | TOOL |
| 38 | BANQUET | BLOC PARTY |
| 37 | SOMEBODY TOLD ME | THE KILLERS |
| 36 | CALLING ON | WETA |
| 35 | LOVE YOUR WAYS | SALMONELLA DUB |
| 34 | PHLEX | BLINDSPOTT |
| 33 | FEEL GOOD INC | GORILLAZ |
| 32 | RUBY | KAISER CHIEFS |
| 31 | TAKE ME OUT | FRANZ FERDINAND |
| 30 | BEST OF YOU | FOO FIGHTERS |
| 29 | FLOAT ON | MODEST MOUSE |
| 28 | DANI CALIFORNIA | RED HOT CHILI PEPPERS |
| 27 | UPRISING | MUSE |
| 26 | SWEET DISPOSITION | TEMPER TRAP |
| 25 | DO I WANNA KNOW | ARCTIC MONKEYS |
| 24 | CHANGE (IN THE HOUSE OF FLIES) | DEFTONES |
| 23 | HOPE | FAT FREDDYS DROP |
| 22 | FEELGOOD HIT OF THE SUMMER | QUEENS OF THE STONE AGE |
| 21 | RENEGADES OF FUNK | RAGE AGAINST THE MACHINE |
| 20 | SEX ON FIRE | KINGS OF LEON |
| 19 | TIME TO PRETEND | MGMT |
| 18 | RUN | SHIHAD |
| 17 | GOLD ON THE CEILING | THE BLACK KEYS |
| 16 | ICKY THUMP | THE WHITE STRIPES |
| 15 | YOUNG BLOOD | THE NAKED AND FAMOUS |
| 14 | CRAZY? YES! DUMB? NO! | THE MINT CHICKS |
| 13 | LOSE YOURSELF | EMINEM |
| 12 | TIMES LIKE THESE | FOO FIGHTERS |
| 11 | MY NUMBER | FOALS |
| 10 | ALL MY FRIENDS | LCD SOUNDSYSTEM |
| 9 | PACIFIER | SHIHAD |
| 8 | AERIALS | SYSTEM OF A DOWN |
| 7 | MR BRIGHTSIDE | THE KILLERS |
| 6 | THE RAT | THE WALKMEN |
| 5 | HASH PIPE | WEEZER |
| 4 | LAST NITE | THE STROKES |
| 3 | ELECTRIC DREAM | SHAPESHIFTER |
| 2 | NO ONE KNOWS | QUEENS OF THE STONE AGE |
| 1 | SEVEN NATION ARMY | THE WHITE STRIPES |