Publish Date

Wednesday, 27 September 2017, 9:40AM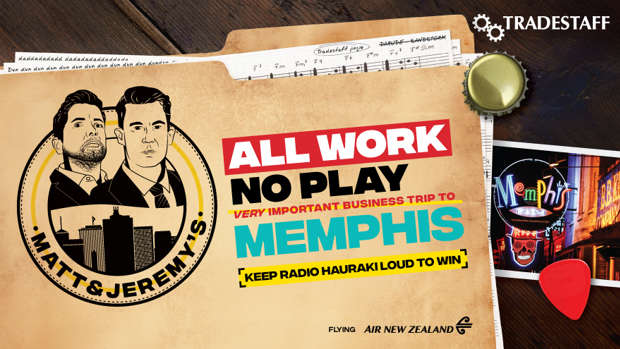 The All Work No Play Very Important Business Trip is back and thanks to Tradestaff you could be joining Matt & Jerry on an epic once in a lifetime trip to Memphis – the Home of the Blues and the Birthplace of Rock 'n' Roll.
You'll join Matt & Jeremy as they fly Air New Zealand to Memphis and hit up Graceland, Beale Street, and Sun Studio in a bid to be inspired to write and produce a new Trade Staff jingle.
All you have to do is tell us what skill you would bring to the ALL WORK NO PLAY business unit and you could be joining them – enter below. 
Thanks to the bloody great New Zealanders at Tradestaff - In the business of getting you working.
Enter below and remember no skill too big, no skill too small!