Radio Hauraki Presents FOALS
Publish Date

Thursday, 11 April 2019, 2:41PM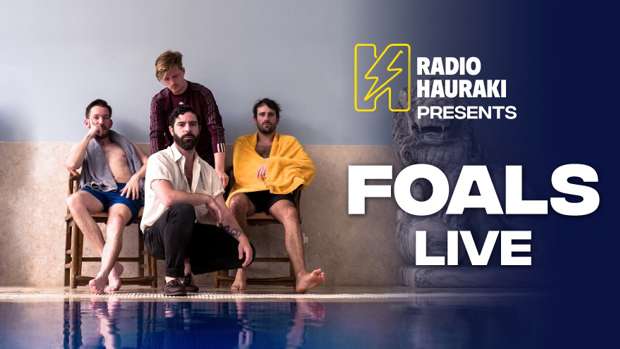 Radio Hauraki is stoked to present FOALS with support from WARPAINT.
WARPAINT will be joining FOALS as special guests for their second Auckland show on Saturday July 13.
Due to huge demand, FOALS have announced a second Auckland show after their first show at the Auckland Town Hall sold out in less than 24 hours! Foals will perform a second date at Auckland Town Hall on Saturday July 13.
FOALS, in the middle of a creative frenzy that has produced not one, but two new records. Everything Not Saved Will Be Lost (Part 1) was released in March, with Part 2 to follow later this year, signalling a return to the spasmodic angles of their debut Antidotes while simultaneously going further off-base than ever before.
From playing chaotic house parties in Oxford to becoming major festival headliners across Europe, Foals' trajectory has been remarkable.
Always eager to break boundaries, Foals' new album 'Everything Not Saved Will Be Lost – Part 1' is the most ambitious statement of their career. It entered the UK charts at #2, with many critics tipping it as a contender for album of the year. The band – Yannis Philippakis (vocals/guitar), Jimmy Smith (guitar), Jack Bevan (drums) and Edwin Congreave (keys) – will release 'Part 2' in the autumn.
Foals have earned critical acclaim and fan devotion in equal measure, with highlights including Best Live Act at the Q Awards, Best Album at the NME Awards, 1.7 million album sales, and over half a billion streams at Spotify since 2015.
Their first visit to New Zealand since 2013, Foals will perform to Kiwi fans, Friday July 12, 2019.
Radio Hauraki in conjunction with Secret Sounds Presents FOALS
Friday, July 12 - AUCKLAND TOWN HALL - SOLD OUT!!!
Saturday 13th - AUCKLAND TOWN HALL - Tickets on sale now! ticketmaster.co.nz