Latest info on Gigs & Events affected by Coronavirus
Publish Date

Monday, 16 March 2020, 12:27PM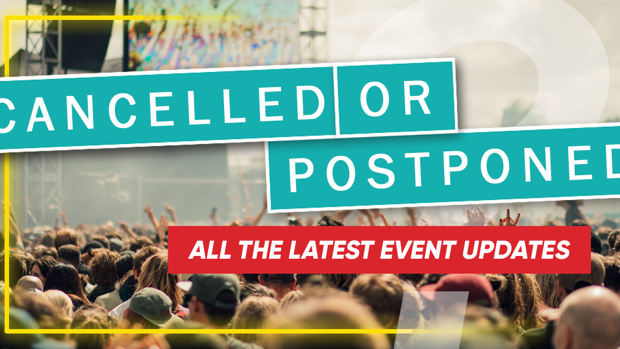 FOR THE LATEST COVID-19 ALERT LEVEL AND UPDATES HEAD TO NZHERALD.CO.NZ

Here's the latest information on all the Gigs & Events that have been affected by the COVID-19 pandemic and the travel restrictions/isolation rules created by the Government.

CANCELLED

- Eagles Of Death Metal
- Cricket: Black Caps Vs Australia T20 Home Series - More info HERE
- The Book Of Mormon
- 2020 NZ International Comedy Festival - More info HERE
- The Darkness
- Patti Smith

POSTPONED

- Tame Impala
- Deftones
- Homegrown Festival - More info HERE
- Violent Femmes NZ Tour  - Rescheduled for November 14th, 16th & 17th - More info HERE
- My Chemical Romance & Jimmy Eat World
- Th' Dudes
- The World Series of Kiwipong 
- Faith No More - Rescheduled for February 2021
- Hamilton Darts Masters - Rescheduled to 2021
- Fly My Pretties NZ Tour - Rescheduled for November & December - More info HERE
- Lenny Kravitz  - More info HERE
- Boy & Bear
- Elbow
- L.A.B - Rescheduled for November & December - More info HERE
- The Offspring & Sum 41
- Helmet - Rescheduled for November 16th, 17th & 19th
- Super Rugby: Suspended for the foreseeable future - More info HERE
- NRL: Vodafone Warriors will not play any games in NZ at this stage
- Beervana - Rescheduled for November 13th & 14th
- The National - Rescheduled for December 7th & 8th  - More info HERE
What do I do if I won tickets from Radio Hauraki?
If the concert is postponed and not cancelled we will sort all winners out with new tickets to the revised show date.
Can I get a refund if I purchased a ticket for a show that is now cancelled?
The likely answer to this scenario will be yes – it's best to check with the ticket agent that you purchased your tickets from.
With the show being postponed, I am now hesitant that I won't be able to make the revised date. What do I do?
Wait for an official announcement of the confirmed new date. If you have purchased tickets and can no longer attend the new date, contact the ticket agent directly for instructions.
I purchased flights and/or accommodation for this show that is now postponed/cancelled. What options do I have?
It is best to contact the airline and accommodation provider directly to see what they can do.
I have tickets to a concert or event which I'm not sure is still going ahead. What do I do?
Stay up to date here with all of the announcements for postponed and cancelled gigs as they happen.