Whoopi Goldberg loves Matt Heath's 'Fire In Cardboard City' movie
Publish Date

Monday, 23 April 2018, 2:15PM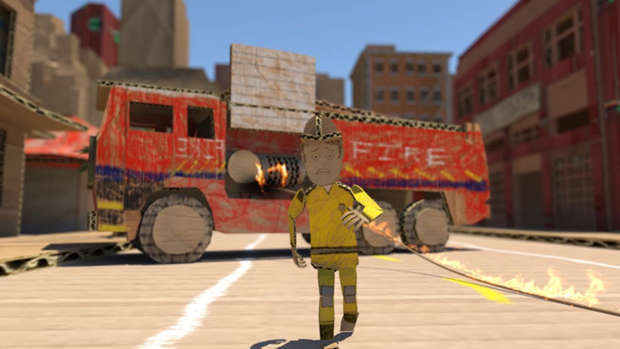 By: Dominic Corry

Iconic entertainer Whoopi Goldberg has heaped praise upon an animated Kiwi short film playing at the Tribeca Film Festival.
"I loved this film," exclaimed the Oscar-winner following a screening of Fire In Cardboard City, which was written by Radio Hauraki's Matt Heath and directed by Phil Brough.
The Kiwi film, which was eight years-in-the-making, screened in the animated shorts programme at the prestigious New York film festival over the weekend.
"This made me laugh!" Goldberg went on to say during a Q&A session with the film's director, Phil Brough, who attended the festival.
As curator of the animated shorts programme, Goldberg personally selected Fire In Cardboard City for inclusion in the festival. Brough was ecstatic at Goldberg's response to his short.
"It was awesome," said Brough. "It's just nice to hear that because she's a giant fan of animation. It's nice when anyone laughs at the film, but also when it's someone of such high calibre."
Set in a city made entirely of cardboard, Fire In Cardboard City chronicles the chaos that ensues when a fire breaks out and spreads wildly (due to all the cardboard).
The film won Best New Zealand Film at last year's Show Me Shorts Film Festival and also screened at the Berlin Film Festival. It was produced by Heath and Orlando Stewart, and features a vocal cameo by Jeremy Wells.
One of the most recognisable and acclaimed entertainers of her generation, Goldberg is that rare entertainment beast: an EGOT – meaning she has won an Emmy (for The View in 2009), a Grammy (for her 1985 comedy album), an Oscar (for Ghost in 1990) and a Tony award (for Thoroughly Modern Millie in 2002).
The Tribeca Film Festival was founded by acclaimed actor Robert De Niro along with producer Jane Rosenthal and philanthropist Craig Hatkoff in 2002 as a way of bringing culture and vitality back to lower Manhattan following the September 11th, 2001 terrorist attacks.
Brough and Heath are currently working on a television adaptation of Fire In Cardboard City, which will screen on TVNZ later this year.

This article was first published on nzherald.co.nz and is republished here with permission.