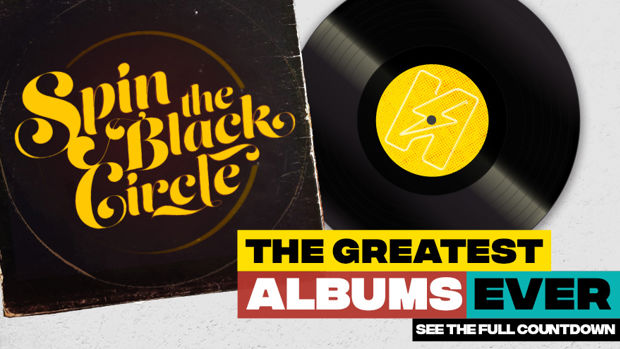 Radio Hauraki's Spin The Black Circle is a countdown of 100 of the biggest and best albums ever made!
 
Every day from 9am join Tracey Donaldson as she guides you through an audio encyclopedia of the great albums ever. 

What do you think will be Number 1?

Text your pick to 3483 or call 0800 HAURAKI and tell us!!!

#100 - Nirvana - MTV Unplugged
#99 - Queens Of The Stone Age - Era Vulgaris
#98 - U2 - War
#97 - Shihad - Beautiful Machine 
#96 - Led Zeppelin - Led Zeppelin
#95 - Foo Fighters - In Your Honour
#94 - Garbage - Garbage
#93 - Dire Straits - Brothers In Arms
#92 - Stone Temple Pilots - Purple
#91 - The Exponents - Something Beginning With C
#90 - Split Enz - True Colours
#89 - Queen - A Night At The Opera
#88 - Arctic Monkeys - What Ever You Say I Am I'm Not
#87 - AC/DC - Highway To Hell
#86 - Pink Floyd - A Momentary Lapse Of Reason
#85 - David Bowie - Hunky Dory
#84 - Red Hot Chili Peppers - Stadium Arcadium
#83 - Midnight Oil - Diesel & Dust 
#82 - Led Zeppelin - Physical Graffiti
#81 - Kings Of Leon - Because Of The Times
#80 - Tim Petty - Into The Great Wide Open
#79 - Violent Femmes - Violent Femmes
#78 - Audioslave - Audioslave
#77 - The Verve - Urban Hymns 
#76 - The Rolling Stones - Exile On Main Street
#75 - REM - Green
#74 - David Bowie - Let's Dance
#73 - The Strokes - Room On Fire
#72 - Foo Fighters - Echoes, Silence, Patience & Grace
#71 - Pixies - Doolittle
#70 - Muse - The Resistance
#69 - Iggy Pop - Lust For Life
#68 - Def Leppard - Hysteria
#67 - The Cure - Kiss Me Kiss Me Kiss Me
#66 - Black Sabbath - Paranoid
#65 - Foo Fighters - Nothing Left To Lose 
#64 - TOOL - Aenima
#63 - Muse - Absolution
#62 - Oasis - Definitely Maybe
#61 - Beck - Odelay
#60 - Red Hot Chili Peppers - Californication
#59 - AC/DC - The Razor's Edge
#58 - The Clash - London Calling
#57 - INXS - Kick
#56 - The Sex Pistols - Never Mind The Bollocks, Here's The Sex Pistols
#55 - Led Zeppelin - III
#54 - Blur - Parklife
#53 - Prodigy - Fat Of The Land
#52 - U2 - Achtung Baby
#51 - The White Stripes - Get Behind Me Satan
#50 - Aerosmith - Pump
#49 - Faith No More - The Real Thing
#48 - Bruce Springsteen - Born In The U.S.A.
#47 - Nirvana - In Utero
#46 - Pearl Jam - VS.
#45 - Foo Fighters - Foo Fighters
#44 - Muse - Black Holes And Revelations
#43 - The Jimi Hendrix Experience - Are You Experienced?
#42 - Smashing Pumpkins - Mellon Collie And The Infinite Sadness
#41 - The Doors - L.A. Woman
#40 - The White Stripes - Elephant
#39 - Pink Floyd - The Wall
#38 - Talking Heads - Stop Making Sense
#37 - The Black Keys - El Camino
#36 - The Jimi Hendrix Experience - Electric Ladyland
#35 - Beastie Boys - Licensed To Ill
#34 - Led Zeppelin - Led Zepplin II
#33 - Shihad - Pacifier
#32 - Guns N' Roses - Use Your Illusion I
#31 - U2 - Joshua Tree
#30 - Pink Floyd - Dark Side Of The Moon
#29 - Soundgarden - Down On The Upside
#28 - AC/DC - High Voltage
#27 - Shihad - Shihad
#26 - Radiohead - The Bends
#25 - Led Zeppelin - Houses Of The Holy
#24 - The Strokes - Is This It
#23 - Kings Of Leon - Only By The Night
#22 - Talking Heads - Speaking In Tongues
#21 - Guns N' Roses - Use Your Illusion II
#20 - Green Day - Dookie
#19 - Smashing Pumpkins - Siamese Dream
#18 - Pink Floyd - Wish You Were Here
#17 - Weezer - Weezer (The Blue Album)
#16 - AC/DC - Back In Black
#15 - The Killers - Hot Fuss
#14 - Oasis - (What's The Story) Morning Glory?
#13 - Metallica - The Black Album
#12 - Radiohead - OK Computer
#11 - Foo Fighters - The Colour And The Shape
#10 - Shihad - The General Electric
#9 - David Bowie - The Rise And Fall Of Ziggy Stardust And The Spiders From Mars
#8 - Soundgarden - Superunknown
#7 - Red Hot Chili Peppers - Blood Sugar Sex Magik
#6 - Rage Against The Machine - Rage Against The Machine
#5 - Pearl Jam - Ten
#4 - Nirvana - Nevermind
#3 - Led Zeppelin - Led Zeppelin
#2 - Queens Of The Stone Age - Songs For The Deaf
#1 - Guns N' Roses - Appetite For Destruction