Brian May had a unique idea for Tony Iommi's next solo album
Publish Date

Wednesday, 1 April 2020, 8:40PM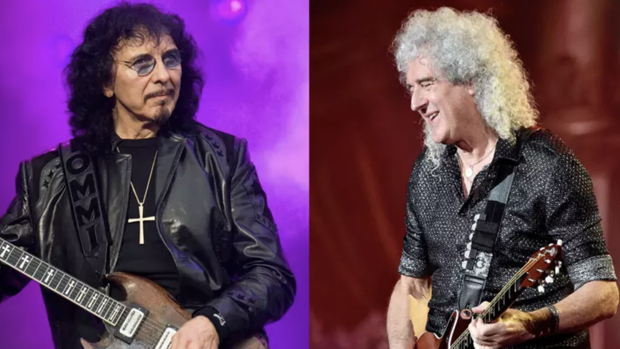 Black Sabbath guitarist and co-founder Tony Iommi is poised to move forward with a new musical project when the time is right.
He's insisting on doing a 'proper' solo album with his musical friends, just like his Iommi record in 2000, which featured the likes of Dave Grohl, Billy Corgan, Serj Tankian, Brian May and others.
Iommi has repeatedly teased the possibility of more solo work since Black Sabbath was laid to rest in 2017, having outlined vague plans to begin recording in late-2018, but his preferred engineer, has been busy with other artists.
"Well, that's the million-dollar question," Iommi said when asked about a new release by Guitar World. "I've got loads of stuff. I keep saying to Ralph [Baker], my manager, 'I want to put it down properly,' but the engineer I've used for years, Mike Exeter, has gone on to do other things... I'd like to put some stuff down, but it won't be a touring band."
The Rock and Roll Hall of Famer says May has heard much of the new material; he urged Iommi to stop waiting to get all his ducks in a row and just let fans hear the music in its raw form.
"Actually, Brian May came over and I gave him four or five CDs of riffs," Iommi recalled, "and he's going, 'You've got to do an album with these, just put them out like that.' I said, 'No, I don't want to do that. I'm going to do them properly.'"
Iommi's last full-length album was Black Sabbath's Grammy Award-winning swan song, 13, which arrived in 2013.
He hasn't strayed far from the studio, though. In addition to constant composing, the guitarist featured on Candlemass's "Astorlus - The Great Octopus," which earned the band its first-ever Grammy nomination at this past year's awards.
Most recently, Iommi partnered with Gibson to create 50 replicas of his legendary 'Monkey' SG, which was used in Black Sabbath throughout the '70s.

This article was first published on iheart.com and is republished here with permission