Courtney Love pays tribute to Kurt Cobain on their 28th Wedding Anniversary
Publish Date

Wednesday, 26 February 2020, 10:31AM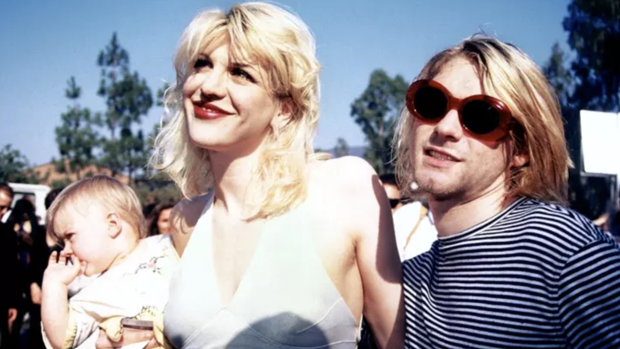 On February 24, 1992, Courtney Love and Kurt Cobain tied the knot on Waikiki Beach in Honolulu, Hawaii.
To celebrate what would have been the couple's 28th anniversary, Love took to Instagram to pay tribute to the late Nirvana singer with a photo from their wedding day and a reflective note. You can see her post here.
"28 years ago I recall feeling , deeply , delighted , dizzy , so in love, and knowing how lucky I was . This man was an angel. i thank him for looking out for me," she wrote. "many parts of the the [stet] last 28 years have been torturous chaotic and uphill, and in public? That is the darkest s*** imaginable, it almost tapped my resilience , almost."
She went on to write, "between Kurt's strange amazing divinity , and the honor of a few true friends , the gift of desperation and sobriety . Of a Higher power and of love , and of empathy , I'm here now. It'll be ok."
She ended her tribute with "I see him on the shore . Rocking in the free world. My husband."
Fans flooded the comments section of the post sending her love as they also remembered Cobain.
"What an absolute magically poetic picture of love that is ❤️ You were lucky to meet such an angel and so was he. You came out on the other side and he'll be waiting on the other side," one fan wrote. "He is with you always in so many ways only you could know. Times doesn't make absence easier it just prepares us for the next time when we too transcend to the next level of what we call love," another fan commented.
Cobain died a little over two years after their wedding on April 5, 1994 at the age of 27.

This article was first published on iheart.com and is republished here with permission