Eddie Vedder may be the only member of Pearl Jam who hates Mötley Crüe
Publish Date

Wednesday, 16 February 2022, 8:00AM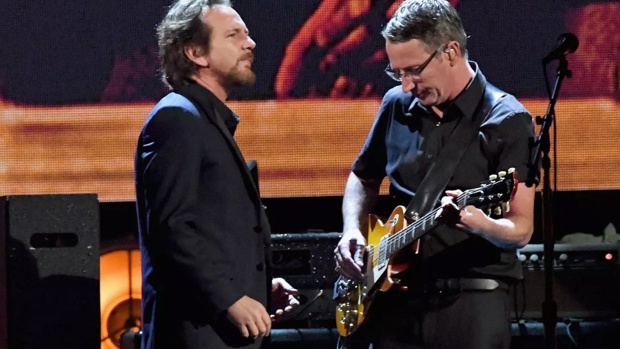 Pearl Jam guitarist Stone Gossard isn't backing up Eddie Vedder's disdain for Mötley Crüe, which sparked a brief but amusing feud between Vedder and Nikki Sixx last week.
In a recent interview, Vedder cited Mötley Crüe as an example of the "vacuous" hard rock he "despised" when he lived in southern California in the late-'80s. Sixx quickly replied via Twitter to the quote, referring to Pearl Jam as "one of the most boring bands in history" and ridiculing Vedder's "marble mouth" singing voice.
A day later, Vedder ribbed Crüe during a live show in New Jersey. While introducing drummer Chad Smith, Vedder noted that Smith's drum kit "does not need to elevate or rotate to do its job," a jab at one of Mötley Crüe drummer Tommy Lee's most famous stunts.
Ask by the Revolver Fan First podcast for his take on the back-and-forth, Gossard said he and the other Pearl Jam co-founders actually liked how edgy Mötley Crüe was in its heyday.
"Jeff [Ament, bass] and Mike [McCready, guitar] and I loved hard rock — we went through it all," Gossard explained. "I bought the first Mötley Crüe Leathür records. I thought it was, at the time, it was punk-like. ...It was like Motörhead...
"There were things about it that I was discovering...that felt rebellious or against the norm, or something that made me interested in it. And I've always liked heavy."
Pearl Jam launched in the early-'90s and the band's rise is largely credited with toppling glam rock bands of the prior decade, like Mötley Crüe and others.
Vedder is supporting his latest solo album, Earthling, on tour in the U.S. this winter and spring.
Mötley Crüe's co-headlining 'Stadium Tour' with Def Leppard launches in the U.S. in June, the same month Pearl Jam hits the road again in Europe.
Take your Radio, Podcasts and Music with you