Eddie Vedder recalls "gem of advice" he received from Bruce Springsteen
Publish Date

Friday, 24 July 2020, 3:42PM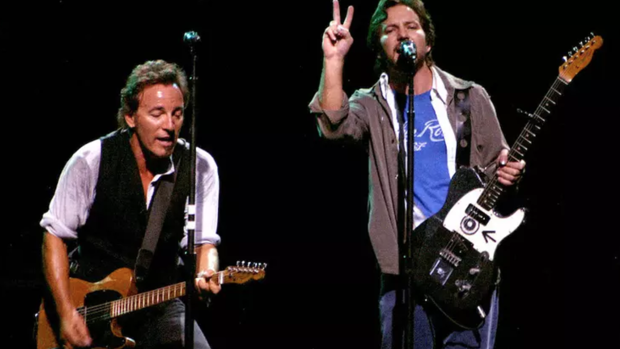 Eddie Vedder may be no stranger to the stage, but even the best front person can get stage fright when they're not backed by a band. During a recent visit to the Daddy Issues podcast with Joe Buck and Oliver Hudson, the Pearl Jam frontman recalled the nerves he felt when touring with Bruce Springsteen in support of his debut solo album, 2007's Into the Wild soundtrack, and the "one gem of advice" he received from the boss that eased his mind.
"There's a real power when it's just one person up there," Springsteen said to him at the time. "It's terrifying — for the audience even. It's a tight-wire act. There's just something, an intimacy in it, and there's a power in it."
"That was one of the greatest things to hear because suddenly [I] didn't feel as vulnerable," Vedder admitted.
Reminiscing about the unknowns of touring solo made the rockstar pause and reflect on the current state of live music. "As I'm saying this, I'm realizing we have not done that in a while," he said in reference to playing shows. "I'm getting shaky here — it's crazy to think we don't know when that might happen again. And terrifying."
Elsewhere in the interview, Vedder talked about his father, who passed away in the early '80s, his love for The Who, and his disdain for the current White House administration. Listen to the full episode below.
This article was first published on iheart.com and is republished here with permission