Fans outraged over Metallica concert's ticket pre-sale disaster
Publish Date

Friday, 15 March 2019, 11:12AM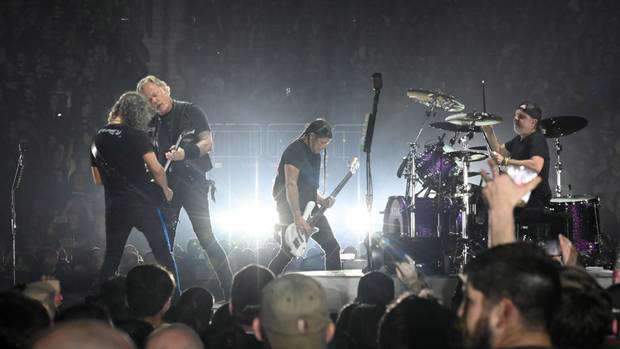 A number of Metallica fans who were excited to buy pre-sale tickets for the Auckland show were left outraged after not being able to access the website.
The Fifth Member Fan Club and Legacy Member Fan Club pre-sales went live on Tuesday afternoon for the October 31 Auckland concert, however it wasn't long until fans had trouble buying tickets on the website.
Fans in New Zealand trying to buy tickets to the Auckland show have posted complaints on Ticketmaster's Facebook page, saying they we having issues accessing the pre-sale site page.
Some could not add tickets to their cart, where others were repeatedly served an error message page.
However, a Ticketmaster spokesperson denied that the website has had any issues and that the pre-sale sales yesterday and today have been the most successful on Metallica's tour so far.
"As with any major on sale, Ticketmaster works very hard behind the scenes to ensure we can handle huge demand and for Metallica that was no different," the spokesperson told the Herald.
"Close to 17,000 tickets were sold on Ticketmaster during the fan club presales – that's a lot of happy fans!"
Despite amazing sales, there were a few outraged customers who struggled to buy pre-sale tickets.
"Having serious issues with you guys today, purposely signed up to presale tickets for Metallica, I choose my two tickets which Is the limit but say I have exceeded my ticket amount, then get to check out trying a different method and the website crashes," on person wrote on the Ticketmaster Facebook page.
"Also not accepting my credit card despite it being absolutely fine. None of my phone calls connecting either so I'm getting pretty p***d off."
Another disgruntled customer wrote: "What's happening with 5th member tickets, every time it's coming up with an error message. Please help asap."
"WTF is wrong with you guys???!!! Your pre-sale doesn't even work so why even promote it in the first place! How absolutely stupid," another commented.
One fan said they were having trouble buying allocated tickets and shared a photo of the error message she received after trying to make a purchase.

This article was first published on nzherald.co.nz and is republished here with permission