Foo Fighters' "Everlong" returns to charts after show with Nandi Bushell
Publish Date

Sunday, 12 September 2021, 4:42PM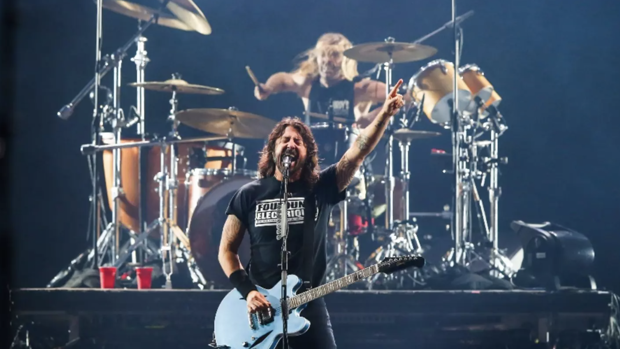 "Everlong" arrived as the second single from Foo Fighters' 1997 album, The Colour and the Shape. Soon becoming one of the band's most commercially successful songs to date, the track has been certified platinum and has remained a timeless tune.
And now, nearly 25 years later, the track is also climbing the charts once again.
The new surge of streams for the song arrives after Foo Fighters invited 11-year-old drumming prodigy, Nandi Bushell, to join them on stage during their show at the Forum in Los Angeles for a performance of "Everlong." Foo Fighters' frontman, Dave Grohl, engaged in a drum battle with the 11-year-old throughout the COVID-19 lockdown, with the two musicians writing songs for one another and enjoying a heated competition.
The track now appears at No. 19 on Billboard's Hot Rock & Alternative Songs, No. 2 on Hot Rock Songs chart, and No. 7 on Hot Hard Rock Songs. Sales of the song have been up 4 percent since Bushell's performance with the band. Stream "Everlong" through iHeartRadio here.
Grohl and Bushell first became acquainted last year, when the then-10-year-old challenged the Foo Fighters frontman and former Nirvana drummer to a drum battle. While Bushell performed "Everlong" for their first challenge, Grohl made his way deeper into his catalog and performed one of his tracks with rock supergroup Them Crooked Vultures, which features Grohl on drums, Queens of the Stone Age's frontman Josh Homme on guitar and vocals, and Led Zeppelin's John Paul Jones on bass.
Foo Fighters have spent the past few months on their 25th-anniversary tour, which was originally scheduled to take place in 2020. With the band now celebrating its 26th anniversary instead, Foo Fighters continues to add new shows to their ongoing tour.