GRAMMYs Producer defends broadcast's brief Eddie Van Halen tribute
Publish Date

Tuesday, 23 March 2021, 11:19AM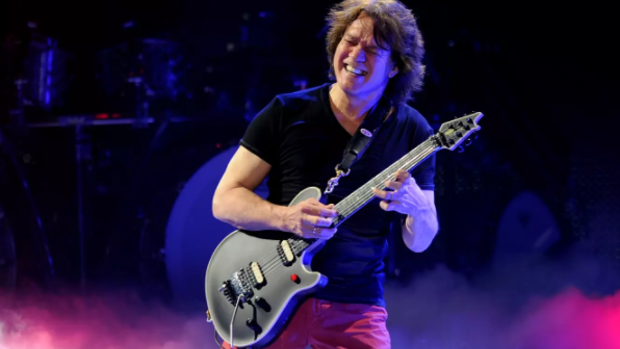 The executive producer for the GRAMMYs defended the show's video tribute to Eddie Van Halen after drawing criticism for not devoting enough time to the groundbreaking musician during the March 14 broadcast's "In Memoriam" segment.
While the segment included live performances tributes to Little Richard, John Prine and Kenny Rogers, plus an additional performance of "You'll Never Walk Alone" by Brittany Howard and Chris Martin, Van Halen got roughly 20-seconds of screen time as the broadcast played a vintage clip of him performing part of "Eruption."
The day after the show, Eddie's son, Wolfgang Van Halen, revealed that he declined an offer to perform "Eruption" live on the show. He explained that he was unaware of what the alternative would be and that he was "hurt" by the show's treatment.
"I didn't realized that they would only show Pop for 15 seconds in the middle of four full performances for others we had lost," Wolfgang explained.
He then pointed out that his father's name also wasn't mentioned at the top of the broadcast when "they talked about artists we lost."
GRAMMYs executive producer Ben Winston responded to the controversy in an interview with Variety, claiming he suggested "eight or nine guitarists" to Wolfgang's representatives. The reps, however, reasoned that since Eddie was such a singular talent, the GRAMMYs would be best off showing a clip.
"I would have loved for it to be longer than it was, but Eddie was the only person in the whole 'In Memoriam' to play their own music, with no other faces being seen," Winston said. "I felt that was an appropriate tribute to him, but if Wolfgang didn't, I'm sorry about that, of course — it's such a horrific thing to lose a parent. We did the best that we felt we could."
As a whole, Winston said he felt the segment "really resonated" with viewers, particularly with the performances displaying "brilliant musicians playing for each other."
But "In Memoriam" is always a Catch 22, he continued; there's never enough time.
"...I think 970 names were submitted for 'In Memoriam' this year, and you can only put ... usually it's 35 - 45, and this year we did 60. I wish we could have done more," he said.
This article was first published on iheart.com and is republished here with permission