Guitars owned by Eddie Van Halen sell for $422,000 at auction
Publish Date

Sunday, 6 December 2020, 11:54AM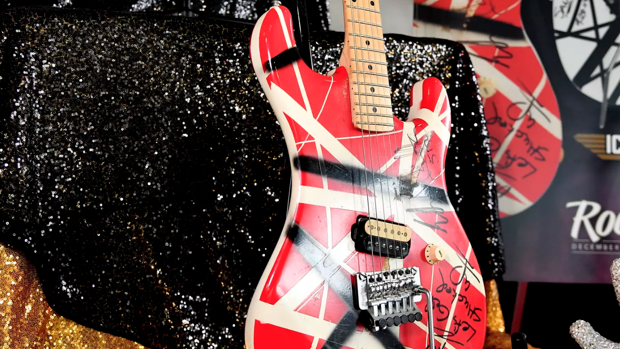 Three guitars that were formerly owned by Eddie Van Halen outsold estimates this week during Julien's 'Icons & Idols Trilogy: Rock 'n' Roll' auction.
The guitars sold during lots that hit the block on December 1 and 2 at the Beverly Hills auction house and online.
A white and black EVH Charvel Art Series electric guitar and a red, black and white Kramer built by Eddie himself and his guitar tech Matt Bruck were expected to sell for between $40,000 and $80,000. Instead the guitars sold for $140,800 and $231,250, respectively.
The Kramer was the top-selling item of its lot. Eddie gave it to his friend Bryan Cush, the owner of Cush's Centenary Oyster House in Shreveport, Lousiana, in 1991. The guitar is signed and also includes a note from Eddie, "Yo Bryan, Let's get shucked up."
The Charvel is signed by Eddie and dated in his handwriting, "San Antonio Texas 9-28-04."
The third guitar was a scaled-down, non-playable version of a red, black and white striped guitar used by actor Bryan Hitchcock, who played a young Eddie in the "Hot for Teacher" music video. That guitar, along with Hitchcock's wardrobe from the video and production documents from the set sold for $50,000.
Eddie's son, Wolfgang Van Halen, commented on news of the sales via Twitter, explaining that none of the guitars were ever used onstage or came out of Eddie's personal collection or from family members.
"I had nothing to do with this," Wolfgang wrote. "I don't EVER plan on selling any of my father's iconic guitars. The only place they'd possible belong is in a museum."
He added that whoever sold the guitars was "just taking advantage of my father's passing. What a surprise."
Also up for auction this week during the Julien's event are a pair of guitars formerly owned by Jimi Hendrix.
This article was first published on iheart.com and is republished here with permission
Take your Radio, Podcasts and Music with you