Johnny Ramone's favorite guitar sells for nearly $1 million at auction
Publish Date

Tuesday, 28 September 2021, 7:52AM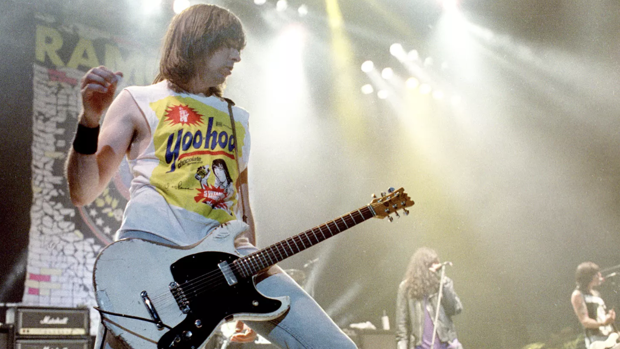 Johnny Ramone's No. 1 guitar for the majority of his career with the Ramones sold at auction Saturday for $937,500.
The 1965 Mosrite Ventures II electric guitar in black and white was heard at every Ramones gig from 1977 - 1996 — an estimated 1,985 shows — and on all 15 Ramones albums.
Johnny initially bought the guitar in '77 to replace another guitar of his which had been stolen following a gig at the Aragon Ballroom in Chicago. While he initially balked at the $500 price for the guitar, he soon got his money's worth out of it. The guitar bears an astonishing amount of wear after nearly two decades of onstage abuse from Johnny's right hand.
After the Ramones disbanded in '96, Johnny sold the guitar to longtime friend Daniel Rey. Rey then loaned the guitar to the Rock and Roll Hall of Fame in Cleveland, Ohio, where it was put on display in the Ramones exhibit.
The guitar was put up for auction last week with RR Auction alongside a trove of other Ramones memorabilia. The winning bidder has asked to remain anonymous, but plans to curate the guitar for "future generations to enjoy," according to Bobby Livingston, Executive VP at RR Auction.
The $937,500 sale price for the guitar is nearly three-and-a-half times higher than the leading bid on the guitar as of Friday morning.
Another Johnny Ramone guitar sold for $46,875 at the same auction.