Kirk Hammett says Kurt Cobain was "a pretty big Metallica fan'
Publish Date

Thursday, 26 August 2021, 8:27AM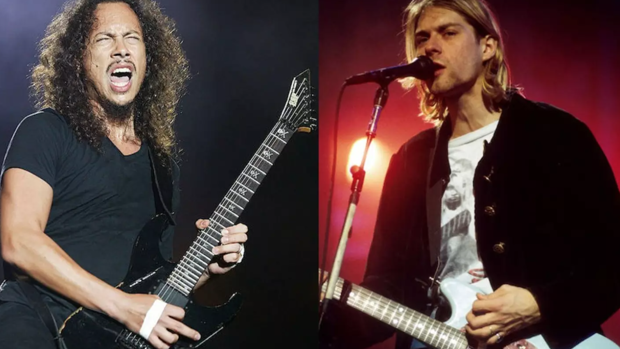 While Metallica gears up to celebrate the 30th anniversary of The Black Album, there's another iconic rock record turning the big 3-0 this year too: Nirvana's Nevermind.
During a recent interview with Classic Rock Magazine (via NME) Kirk Hammett looked back on the release of their seminal album and the impact it had on its successors. He also revealed that Kurt Cobain was "a pretty big Metallica fan," which took him by surprise.
"Kurt Cobain came to one of our shows in Seattle, on the Black Album tour," the guitarist recalled. "I knew Kurt kind of well, and I hung out with him quite a bit. He was a pretty big Metallica fan. I was surprised at how much of a Metallica fan he was."
"Rock radio embracing our sound – our heaviness – helped the whole grunge thing take hold," Hammett continued. "Not long after The Black Album came out, Nirvana put out Nevermind. I like to think we had something to do with the acceptance of Nirvana."
Both albums have something else in common — timelessness — and Hammett believes The Black Album is "a cultural force in itself."
"As much as modern culture changes and morphs, there's something within that album that continues to resonate around the world," he said.
Earlier this year, producer Butch Vig made a similar statement about Nevermind; however, he doesn't think it would have the same impact today as it did in 1991.
"I think it would be tough to repeat that zeitgeist moment," Vig admitted. "If Nevermind came out this week, despite being a great record, it would not have the same cultural impact. It was perfect timing coming out when there was a shift in music and it felt like a revolution. I can see that happening again, but not in the same way."