Metallica announces two concerts to celebrate its 40th anniversary
Publish Date

Thursday, 15 July 2021, 9:06AM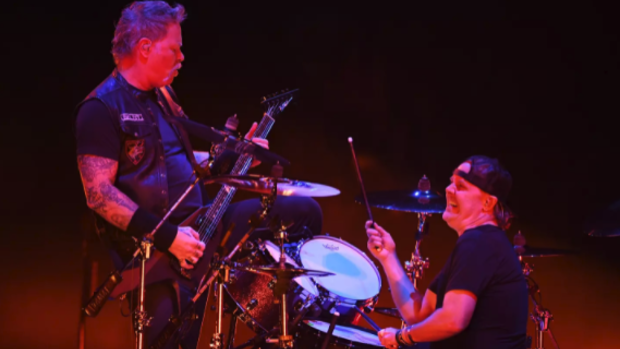 Metallica will celebrate its 40th anniversary this year in its longtime adopted hometown of San Francisco, California.
The band is inviting its biggest fans to join it for two unique live shows December 17 and 19 at the Chase Center.
"It's been a nutty ride and even though most of the time it feels like we're just getting started, we're excited to celebrate the past four decades with you," the band said in a statement.
Tickets are available only to members of Metallica's Fifth Member fan club. More details will be available soon.
Metallica opened the Chase Center in September of 2019 with its pair of S&M 2 concerts, which featured the band backed by the San Francisco Symphony Orchestra.
In order for all Fifth Member club members to have a fair chance at getting tickets, Metallica is inviting them to enter to win a reservation code to guarantee them an chance to buy tickets. Reservation winners will be chosen at random and e-mailed additional information and directions to complete their purchase.
Winners will have the option to buy tickets to one or both shows, but purchases will be limited to two tickets per show. The band is also making travel and hotel accommodations packages available via MetallicaTravel.com.
In a press release, the band noted that fans from more than 60 countries attended their S&M 2 concerts in San Francisco in 2019. Those shows were the last concerts Metallica played before a live, in-person audience.
Since co-founders James Hetfield and Lars Ulrich took the stage together for the first time in Anaheim, California, in 1981, Metallica has performed more than 2,000 live shows on all seven continents en route to becoming one of the most successful rock bands of all time.
The band added that its has no idea what the COVID situation will be in San Francisco by December. It will update Metallica.com with the latest rules and guidelines and send updates to ticket buyers 30 days in advance of the show with what they need to know.
Metallica added that it "strongly" recommends fans get fully vaccinated prior to the concert, "as this will be the best way to keep everyone safe and healthy and to keep this show on the road! Visit vaccines.gov for more information or to book your appointment. Our friends outside the U.S. should consult with their local pharmacy or government websites."
This year, Metallica is also celebrating 30 years of its most successful studio album, 1991's self titled Black Album.
Take your Radio, Podcasts and Music with you