Metallica producer talks why Lars Ulrich wouldn't change 'St. Anger' drums
Publish Date

Wednesday, 22 July 2020, 6:55AM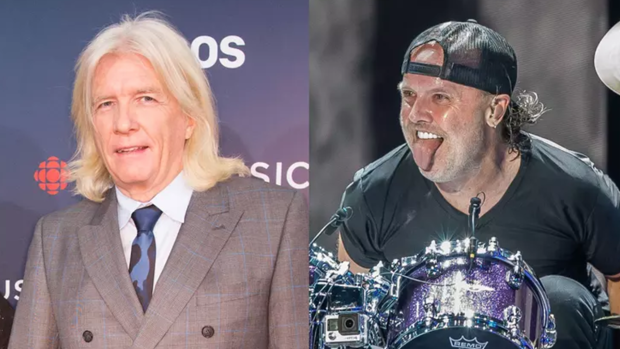 Longtime Metallica producer Bob Rock doesn't wake up at night regretting the drum sound on the band's much-maligned 2003 St. Anger album, but he doesn't love it either.
When asked about the album in a conversation with Tone Talk, Rock said he's ultimately "fine" with the production. He went on to explain what drove the band to the radical aesthetic St. Anger.
When Metallica was preparing for the album, Rock and some members of the band took a trip from San Francisco to a space in Oakland where they rehearsed when late-bassist Cliff Burton was in the band.
"We had a great time, and Lars [Ulrich] told me about his drums, how they were set up in a certain place," Rock recalled. "We were looking for inspiration, let's put it this way, because James [Hetfield] wasn't there...So he set up the drums in the rehearsal room, we were on our way, and Lars just kept staring at the drums."
Longtime bassist Jason Newsted left the band amicably in 2001. Hetfield, who was struggling with alcoholism, took a lengthy leave of absence shortly thereafter, openly doubting his ability to continue his musical career and maintain his sobriety.
Metallica famously chronicled the friction between the band members during this period in its 2004 Some Kind of Monster documentary. The band was on the verge of a breakup.
The former jam space represented a return to its roots.
Ulrich put a snare drum on his kit and Rock mic'd it up with whatever he had available. They made a demo.
"...[A]nd that was the sound, and he just would not go back," Rock recalled. "...[T]his was the sound of the drums when they were rehearsing the album, it's basically the closest to them being in that clubhouse, and no matter what everybody says, it kept the band together, and that inspired them to go on.
"So I'm okay with all the flak I've taken. It's a f---ing snare drum sound, give it a break."
St. Anger was the second time in Metallica's career that the band made a drastic decision in terms of production.
For decades fans have wondered why the band's 1988 album, ...And Justice For All, has almost no audible bass guitar. Justice engineers Toby Wright and Steve Thompson both pinned the choice on Ulrich, who had a specific drum sound in mind for the album which did not allow for additional low end from Newsted's bass guitar.
Rock began working with Metallica on 1991's Black Album. He said in an interview this past winter that the bass-less mix on the band's prior effort "didn't make sense" to him.
This article was first published on iheart.com and is republished here with permission