Mick Fleetwood, David Gilmour & more perform at Peter Green Tribute Show
Publish Date

Thursday, 27 February 2020, 1:54PM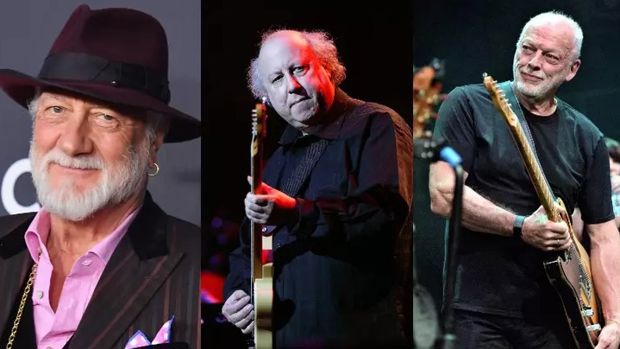 On Tuesday (February 25), Fleetwood Mac's Mick Fleetwood held a concert paying homage to founding Fleetwood Mac guitarist Peter Green, who left the band in 1970.
Along with Mick Fleetwood, the star-studded show included over a dozen performers by the likes of Aerosmith's Steven Tyler, Pink Floyd's David Gilmour, Neil Finn, The Who's Pete Townshend, Metallica's Kirk Hammett, Noel Gallagher and more.
"The concert is a celebration of those early blues days where we all began, and it's important to recognize the profound impact Peter and the early Fleetwood Mac had on the world of music," Fleetwood said in a statement. "Peter was my greatest mentor and it gives me such joy to pay tribute to his incredible talent. I am honored to be sharing the stage with some of the many artists Peter has inspired over the years and who share my great respect for this remarkable musician."
The 23-song setlist included songs like "Rolling Man" — written by Green for Fleetwood Mac's album Mr. Wonderful — along with "Looking for Somebody," "No Place to Go," and "Rattlesnake Shake."
Townshend jumped on stage for a rendition of "Station Man," while Tyler contributed to "Oh Well, Part 1," Gilmour performed during "Oh Well (Part 2)" and "Albatross." The last song featured all of the legendary performers collaborating on "Shake Your Moneymaker."
Check out some fan-shot footage below as well as the full setlist.
Tribute to Peter Green Setlist:
1. "Rolling Man"
2. "Homework"
3. "Dr Brown"
4. "All Your Love"
5. "Rattlesnake Shake"
6. "Stop Messin' Around"
7. "Looking for Somebody"
8. "Sandy Mary"
9. "Love That Burns"
10. "The World Keeps Turning"
11. "Like Crying"
12. "No Place to Go"
13. "Station Man"
14. "Man of the World"
15. "Oh Well, part 1"
16. "Oh Well, part 2"
17. "Need Your Love So Bad"
18. "Black Magic Woman"
19. "The Sky is Crying"
20. "I Can't Hold On"
21. "The Green Manalishi"
22. "Albatross"
23. "Shake Your Moneymaker"

This article was first published on iheart.com and is republished here with permission