Mick Fleetwood's Peter Green concert film goes digital for its premier
Publish Date

Friday, 19 March 2021, 12:27PM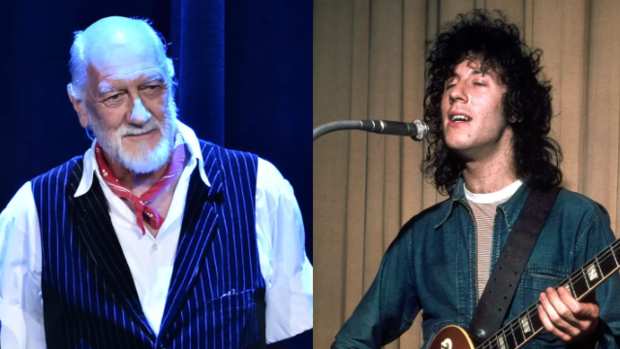 The world premiere screening of Mick Fleetwood's all-star concert tribute to Fleetwood Mac founder Peter Green is coming to nugs.net this spring.
Mick Fleetwood & Friends Celebrate the Music of Peter Green and the Early Years of Fleetwood Mac was film before a live audience at the London Palladium on February 25, 2020.
The concert featured Neil Finn, Noel Gallagher, Billy Gibbons, David Gilmour, Kirk Hammett, John Mayall, Christine McVie, Jeremy Spencer, Zak Starkey, Pete Townshend, Steven Tyler, Bill Wyman and an equally potent house band led by Fleetwood himself.
Theatrical screenings of the film were called off due to the COVID-19 pandemic, so the premier will go live April 24 at 3 p.m. Eastern via nugs.net. The concert will be available via video on demand for up five days after its premier.
"Peter Green taught me two unassailable lessons when it came to music: less is more and don't worry about being clever," Fleetwood said of his former bandmate. "He played from his heart, which is why so many people, musicians and appreciators alike, gathered in London to pay tribute to him, all of us together bearing witness to the magic of Peter's music. He revealed himself in his art, which sometimes happens at great cost, as it was with Peter. He showed so much of himself that he had to withdraw. And he did. May he rest easy. He was loved and he will be missed."
Green passed away last July at age 73. He was beloved during his lifetime for his revolutionary blues-rock guitar playing, hugely impactful songwriting and for co-founding Fleetwood Mac with Mick Fleetwood and bassist John McVie in 1967.
Tickets to the premier are on sale now, starting at $19.99 via nugs.net/fleetwood.
Fans can also purchase enhanced bundles to add to their at-home concert experience, including posters, T-shirts and access to a private Town Hall pre-show even with Mick Fleetwood.
At the Town Hall, Fleetwood will answer questions and share unheard stories from his Rock and Roll Hall of Fame band's early days.
Virtual meet-and-greets with Fleetwood are also available.
This article was first published on iheart.com and is republished here with permission