Mick Jagger: There's "No Competition" between The Beatles & Rolling Stones
Publish Date

Saturday, 25 April 2020, 9:35AM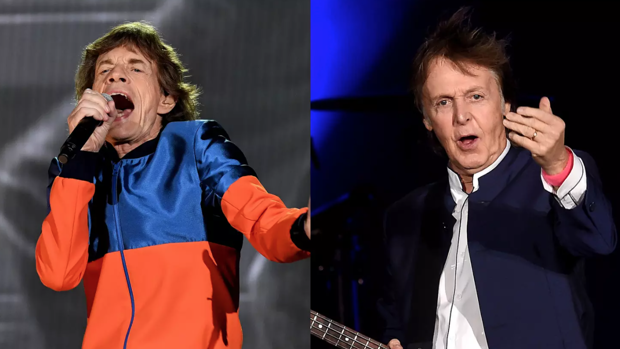 Mick Jagger isn't taking personally Paul McCartney's recent comments that The Beatles were better than The Rolling Stones.
McCartney told Howard Stern earlier this month that he agreed with the radio host's assessment that The Beatles were the superior of the two iconic bands.
"[The Stones] are rooted in the blues. When they are writing stuff, it has to do with the blues. We had a little more influences," McCartney said, referring to The Beatles' later work, which drew heavily from classical, jazz and Eastern genres. "There's a lot of differences, and I love the Stones, but I'm with you: The Beatles were better."
Jagger was asked by Zane Lowe on Friday, what he thought of McCartney's assessment.
"That's so funny. He's a sweetheart," Jagger replied with a laugh. "There's obviously no competition."
He continued: "The big difference, though, is and sort of slightly seriously, is that The Rolling Stones is a big concert band in other decades and other areas when The Beatles never even did an arena tour. Madison Square Garden with a decent sound system. They broke up before that business started, the touring business for real."
It's hard to argue with either McCartney or Jagger's points.
In terms of composition and arrangement, The Beatles were miles ahead of the Stones. But the Beatles also didn't have to worry about reproducing their studio recordings in concert. We appreciate the Beatles for their output and innovation; we appreciate the Stones for their staying power.
Faced with inadequate live sound technology, The Beatles quit touring in the mid-'60s and turned their attention to revolutionizing recorded music. By the time the Rolling Stones were ready to play stadiums, technology had caught up and they were able to conquer that industry.
And despite all the years, both bands remain constant forces of intrigue and entertainment.
The Stones just released a salient new single, "Living In A Ghost Town," while Ringo Starr has teased a big surprise for Beatles fans coming up Saturday at noon Eastern time.

This article was first published on iheart.com and is republished here with permission