My Chemical Romance sparks album theories with cryptic new photo
Publish Date

Thursday, 16 January 2020, 11:28AM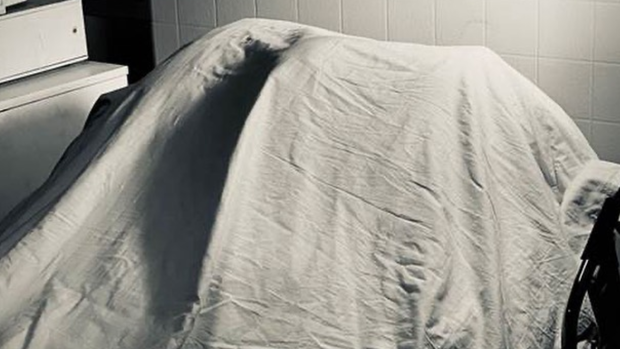 My Chemical Romance is back at it again with the mysterious posts.
On Tuesday (January 14), the band sent the Internet into a frenzy when a new post appeared on social media.
The photo, and the vampire emoji, in question, doesn't tell us too much and leaves more questions than answers.
As you'll see in the photo below, the black and white shot is set in what looks like a hospital room set for a horror film. It appears that there is a figure — human or otherwise — being covered with a white sheet with its arms and face protruding out.
Many fans wasted no time drawing comparisons to MCR's iconic "Welcome To The Black Parade" video. "We not gonna talk about how much it looks like the room from Black Parade? Kinda even looks like the [stet] same machine on the side..." a fan pointed out.
In the opening scene The Patient is seen in a hospital bed and later reaches out a hand which looks a lot like the new post. "Could this be a new concept for a new album This cryptic stuff hurts my head," one fan tweeted. Another fan pointed out that the clues so far resemble each album hinting a new one will be announced: "first a skull emoji, now a vampire. are you guys doing your 4 albums through emojis? skull is the black parade vampire is bullets bc vampires will never hurt you?? are you doing this to show there is a new album?"
This isn't the first cryptic post that has My Chemical Romance fans scratching their heads and trying to connect the dots. A few days ago the band posted a short clip to Instagram that flashed through some symbols and the Union Jack flag.

This article was first published on iheart.com and is republished here with permission