Ozzy Osbourne says he's "intimidated" and inspired by Tony Iommi
Publish Date

Saturday, 8 February 2020, 12:02PM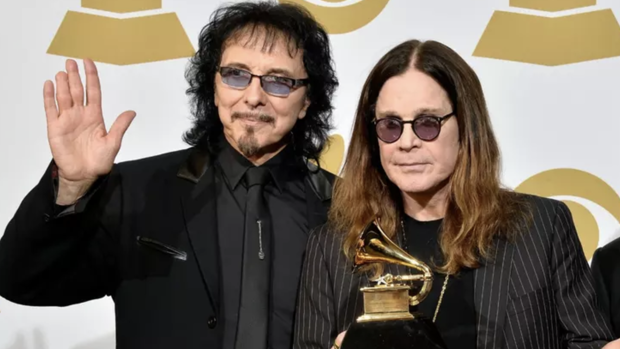 While Ozzy Osbourne does not fear death, he does wonder if he should be afraid of Tony Iommi.
Ozzy and Iommi have been friends for over 50 years, having co-founded Black Sabbath together with Geezer Butler and Bill Ward in 1968. But that doesn't mean Ozzy isn't still in awe of what Iommi has accomplished.
Speaking on the Broken Record podcast with producer Rick Rubin (with whom Black Sabbath made its 13 album), Ozzy discussed his fellow Sabbath co-founders, complimenting Ward's drumming and Butler's bass playing and lyric-writing.
Regarding Iommi, Ozzy expressed particular awe.
"Tony, he's always gonna be the greatest — no one can touch him," Ozzy said. "And actually, to this day, I still don't understand how he plays guitar, 'cause he's got no fingertips; he plays with plastic fingers."
In the late-'60s, Iommi lost the tips of two of his fingers in a factory accident. Unable to accept giving up the guitar, he fashioned makeshift fingertips out of wax and leather. Later in his career, he got better-fitting ones made out of plastic.
Ozzy suggested that Iommi's perseverance has been on his mind lately as he fights to get back in good enough health to continue his 'No More Tours 2' farewell tour.
"When [Iommi] got diagnosed with cancer, he just dealt with it," Ozzy continued, noting Iommi's multi-year cancer fight. "That's him. I'm [crying], and he's like, 'Whatever I have to do.' He's like that. He's always been like that. Very calm."
Iommi is the only member of Black Sabbath to have appeared on every one of the band's albums. Ozzy confirms the guitarist was "the most irreplaceable one" of the co-founders.
"...Tony, he's one of the few people who could walk into this room right now and I would f---ing feel intimidated," Ozzy added. "He intimidates the f--k out of me — and he knows it."
Ozzy's reverence for Iommi might be one of the reasons he's said he didn't have much fun on Black Sabbath's farewell tour.
But the two seem to be getting along nowadays. Iommi has repeatedly voiced support for Ozzy during his "year from hell."
This article was first published on iheart.com and is republished here with permission