Paul McCartney will induct Foo Fighters into Rock Hall Of Fame this month
Publish Date

Tuesday, 19 October 2021, 9:26AM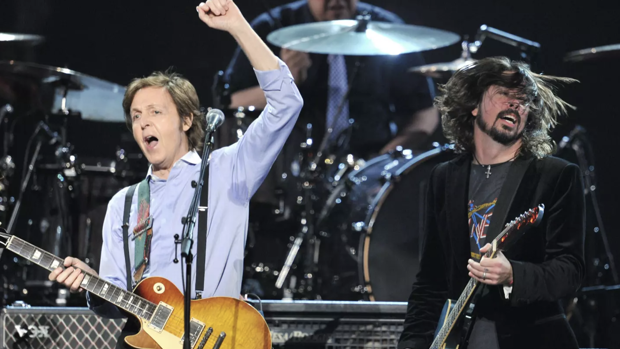 Paul McCartney will induct Foo Fighters into the Rock and Roll Hall of Fame later this month at the 36th annual induction ceremony.
Foo Fighters publicly wondered earlier this year who should induct them into the Hall of Fame. At the time, Grohl suggested The Police's Stewart Copeland should do the honors, as Copeland's solo work was an inspiration behind the Foo Fighters' debut. Foos guitarist Pat Smear suggested the induction speech should be delivered by Grohl's mother, Virginia Grohl.
The former Beatle will just have to do, however.
McCartney is a longtime friend of Grohl and the Foos. He even shares a 'Best Rock Song' Grammy award with Grohl and Krist Novoselic for the trio's 2014 collaboration "Cut Me Some Slack."
Foo Fighters are at the head of the 2021 Rock Hall class after being selected for induction in their first year of eligibility.
Grohl's induction with Foo Fighters will put him in an exclusive group of two-time Rock Hall inductees, a list that includes his 2021 classmates Tina Turner and Carole King, as well as McCartney and about 20 others.
The October 30 Rock Hall ceremony in Cleveland will include speeches by many other luminaries, beyond McCartney.
Angela Bassett will induct Turner. Taylor Swift will induct King. Drew Barrymore will induct The Go-Go's. Lionel Richie will induct 2021 Ahmet Ertegun Award recipient Clarence Avant.