Queen's Brian May urges vaccination after swift COVID-19 recovery
Publish Date

Tuesday, 21 December 2021, 7:15AM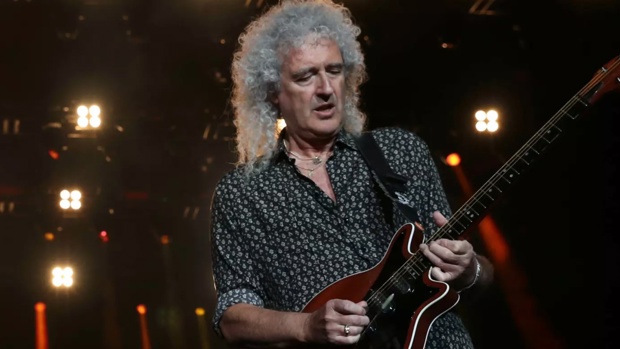 Queen guitarist Brian May is among the staggering number of people who have tested positive for COVID-19 as the Omicron variant continues to send new cases of the virus soaring.
May explained via Instagram this past weekend that while he's been "incredibly careful" throughout the pandemic, living a "hermit-like life" at home with his wife, Anita Dobson, and it only took one dalliance for him to get infected. Thankfully, he's okay.
The astrophysicist and Rock and Roll Hall of Famer suspects he caught the virus at a birthday luncheon attended only by vaccinated people. Furthermore, all attendees took at-home COVID tests the morning of the get-together.
"So it seemed to be set up very safely, but of course you kinda know you're taking a risk," he explained.
Only one day later, however, May says he had a stuffy nose and his wife had "a little bit of a cough." The day after that, May and Dobson learned that eight people from the party had already tested positive.
The couple did another test Tuesday evening and were positive.
"So it took that long — Saturday to Tuesday — for a test to show anything," he said.
May emphasized that the party "seemed like a safe situation" for all participants to let their guard down and get together maskless — apparently it wasn't.
After "two horrendous days" of "the worst flu you can imagine," the guitarist said he began to feel well again. A week out, he felt "pretty good."
May ended the message by underscoring the power of the COVID-19 vaccines, which kept him out of the hospital.
"I can't emphasize to you enough: This is not the response my body would have made on its own," he said. "It's making this response because I've had three Pfizer jabs. And I beg you and implore you to go get jabbed if you're not already — 'cause you need the help. I lost one of my very best friends to COVID very early on — in six days, it killed him. It could have done me the last six days, but it didn't because of the jabs."
He concluded, noting how sad it is that some people are so dug in against the vaccination effort.
"Jesus Christ, guys, our parents fought through wars and had their civil rights kind of knocked away. All anyone's asking is for you to play your part and to try and unite against this invader — and it's a nasty thing, and it isn't finished yet," he said.
May, 74, has faced a gauntlet of health challenges over the last two years. The pandemic-related lockdowns began just a few months after May recovered from surgery on his leg. Early in the lockdown, May admitted to battling immense depression due to the isolation.
In early-May of 2020, the guitarist wound up in the hospital after tearing a muscle while gardening. Fewer than three weeks later, he was back in the hospital in surgery for a heart attack. The following September of 2020, May was again rushed to the hospital as a side effect from one of his heart medicines had caused what he described as a "stomach explosion," which he said was as likely to have killed him as the heart attack.
Queen drummer Roger Taylor has suggested more than once that the band likely would have postponed tour dates in 2020, regardless of the pandemic, due to the state of May's health.
May admitted that he and his wife perhaps made "the wrong decision" by going to the party; they could have seen their friend another time. But he hopes his story helps "the few of you out there who haven't had this now" when it comes to making decisions about their health going forward.
He added in a subsequent post late-Sunday that he's still COVID positive, some five days into his quarantine and a few days after his symptoms resolved.