Slash wrote the foreword for Megadeth's upcoming 'Rust In Peace' book
Publish Date

Wednesday, 22 July 2020, 6:19PM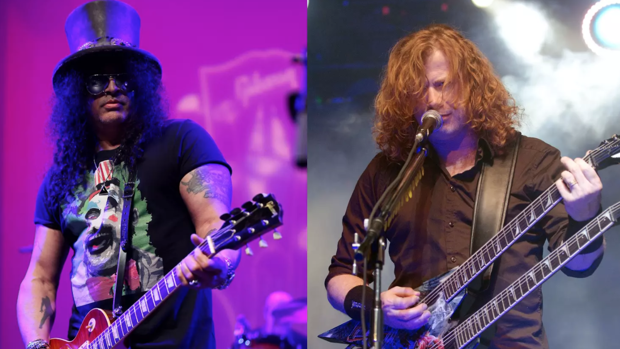 Dave Mustaine tapped Slash to write the foreword to his upcoming book about the making of Megadeth's groundbreaking 1990 album Rust in Peace.
The album helped break Megadeth into a more mainstream rock audience and is widely considered to be perhaps the greatest thrash metal album of all-time.
"Rust In Peace put the band on the map..." Slash writes. "It made Megadeth a household name...I certainly understand why every important Rust In Peace anniversary is celebrated as a pivotal moment for both Megadeth and heavy metal."
The book's name has been changed from Building the Perfect Beast to the more direct Rust In Peace: The Inside Story Of The Megadeth Masterpiece, but it's still due out September 8 via Hachette Books.
The Inside Story Of The Megadeth Masterpiece details the before, during and after of the recording and release of Rust In Peace.
It chronicles the additions of drummer Nick Menza and guitarist Marty Friedman to the band, as well as the composition of the album and how Megadeth wrestled with its ensuing success.
"In short, it's a true story of groundbreaking anti-pop that was moving toward the mainstream (or the mainstream that was moving toward the band), at a time of great cultural change, power, ego, drugs, and other vices that went hand-in-hand with rock and roll, circa the late eighties-early nineties," reads part of the book synopsis.
Get more details or pre-order here.
The new tome will arrive just over a decade after Mustaine's autobiography hit the shelves and rose to No. 15 on the New York Times 'Hardcover Nonfiction' best sellers list.

This article was first published on iheart.com and is republished here with permission