Soundgarden defend actions after Chris Cornell's death in legal filing
Publish Date

Saturday, 8 February 2020, 11:58AM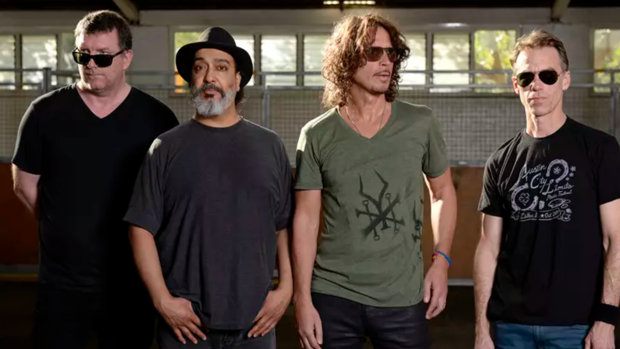 As the legal battle over Soundgarden's final studio album escalates, the band is detailing its actions from the night Chris Cornell died.
In one of the drama's ugliest moments so far, a filing from Chris's widow Vicky Cornell suggests the band was "uncaring" following the sudden death of its front man in 2017 — a loss that essentially ended the band.
Vicky's lawyers point out that the surviving members of Soundgarden and the band's crew followed their itinerary and traveled from Detroit to Columbus, Ohio, the night of the singer's death.
Rolling Stone notes that the claim is "less legally consequential" than other issues at hand, yet the band addressed it anyway.
Soundgarden's response and motion for a dismissal of the lawsuit, filed Monday, explains that Chris rarely traveled overnight with the band and crew "because [he] was unable to sleep on buses."
It was early in the morning on the road to Columbus that the band members learned the tragic news.
Drummer Matt Cameron first saw the news on Facebook, then woke the other band and crew members.
"...[T]hey and their crew frantically searched the news, social media and called friends and family, until they received the awful confirmation from their tour manager."
Cameron, bassist Ben Shepherd, guitarist Kim Thayil and the crew were "utterly devastated," the document continues.
After pulling the buses over, the band was advised not to go back to Detroit, as it would "be swimming with police, press and other media, and there was nothing positive that would be achieved."
Additionally, much of the crew was already in Columbus and "needed support," Soundgarden's lawyers add.
In Ohio, the band and crew organized a vigil where they "wept and attempted to console each other for many hours."
Vicky and Soundgarden have been sparring over questions surrounding seven songs in Chris's vault. Vicky says that while the songs were intended for Soundgarden, they are entirely Chris's work and amount to solo material.
She adds that the band has tried to 'strong-arm' her into turning over the sessions by withholding royalties.
Soundgarden says it had been working on new music for at least two years before Chris' death and there is proof that the songs were collaborative.
In its filing Monday, Soundgarden sought to be awarded ownership of the material in question and denied Vicky's claim that of withholding royalties, noting that none of the band members are being paid at the moment.
This article was first published on iheart.com and is republished here with permission