Sting explains how he's able to sing and play bass simultaneously
Publish Date

Thursday, 25 March 2021, 9:55AM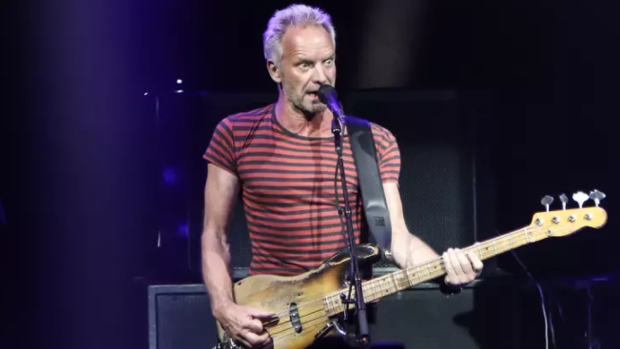 Sting is one of precious few artists to have perfected the art of singing and playing the bass guitar at the same time.
Singing bassists are at the very least an exception to the more conventional rhythm guitar strumming lead singers, but as musicians of all sorts will tell you, performing two such crucial roles in a live setting is not for everyone.
Sting addressed his curious skill in an except from a forthcoming installment of Audible's Words + Music series.
"It's a special breed of people who can do something that is contrapuntal," Sting says in a clip. "In other words, you can sing a song and strum a guitar along. It's kind of easy. Whereas if you play the bass, it's a bit like patting your head and making circles on your tummy. You're doing something that involves two sides of your brain. And not many people develop that skill, and it's something I was very proud of."
As a bassist, Sting provides a foundational piece of an arrangement, marrying rhythm to melody and filling space between the percussion and other instrumentation. As a lead singer, he's the star of the show, responsible for delivering melody and lyrics and interacting with an arena full of people.
The two jobs don't often overlap — which is why talents like Paul McCartney, Geddy Lee, Les Claypool, Bootsy Collins, Thundercat and Sting are held up as so extraordinary.
Sting admits that, for him, the skill didn't come completely naturally. He honed his ability over grueling hours of practice.
"I could slow the playing down, slow the singing down — I saw where the gaps were and like a jigsaw puzzle fitted it together," he continued. "So now it's become second nature to me to play bass and sing. Other musicians will come and say, 'How do you do that?' I saw, 'Well, it's just practice. It's what you do.' I've always enjoyed having that particular skill set. I didn't want to be a guitar hero. I play the guitar; I write guitar parts. But that's not part of my thing. I want to be a bass player who sings."
The Audible piece Sting: Upon Reflection debuts March 25 via Audible.
Sting's latest album, Duets, arrived last Friday. The record features collaborations with the likes of Eric Clapton, Annie Lennox, Herbie Hancock and many others.
This article was first published on iheart.com and is republished here with permission
Take your Radio, Podcasts and Music with you