The D4 delivers raucous rock n roll farewell to the Kings Arms
Publish Date

Tuesday, 27 February 2018, 12:34PM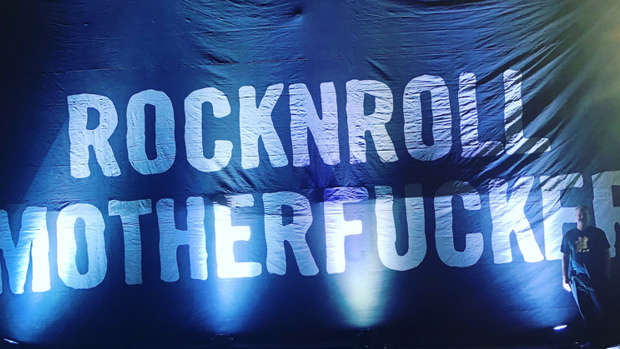 It was both a welcome return and a fond farewell at the Kings Arms last night, where Kiwi 
rockers The D4 reformed for the first time in more than a decade – to play their final ever show at the Kings Arms.
Fittingly, their last gig in 2006 was also at the Newton venue, which will close its doors for good next Wednesday, after more than 20 years as one of New Zealand's best-loved music venues.

And while fans were excited to welcome the band back, it was clear both the band and sellout crowd were there to give the old girl one hell of a send-off.

Fans arrived at the Newton pub to be greeted by The D4's classic slogan "Rocknroll Motherf*****" emblazoned on a giant banner, hanging from the side of the building. At approx 12m by 6m it was both enormous and glorious.

For many fans, the last time they saw The D4 play at The Kings Arms, the speakers caught fire. 12 years on, the room fizzed in anticipation of what might happen this time around. 

Packed to capacity, both the pub and garden bar were buzzing, as fans waited for the band to appear. The first sign of their return came when guitarist and singer Dion Palmer sauntered on stage to crudely spray paint the band's name on the stage backdrop.

Kicking the night off with the pulsing Get Loose, the crowd obeyed the lyrical instructions to "get up, get out and get loose".
From there, the night became a frantic blur as frontman Jimmy Christmas kept the crowd pumping with tune after frenzied tune, stopping only for some occasional banter. 

With just two full-length albums to their name, no one was left feeling they'd missed out of their favourite, as the band blasted through their catalogue, including hits like Out Of My Head, You Got Me and of course Sake Bomb. 

Speaking of Sake Bombs, the bar was selling them on the night in honour of the headliners. But as the band screamed the lyrics "Can I get a little sake here / Drop it into a glass of beer" it emerged too many people had got in first and the bar had actually run dry.
Jimmy Christmas may have a bit less hair these days but otherwise, The D4 remain largely unchanged. It was a wild night of awesome rock n roll that ended with sweaty band members out in the garden reminiscing with fans and rediscovering long lost chums.

Review by Mikhal Norriss

This article was first published on nzherald.co.nz and is republished here with permission.