Why Vedder's Mötley Crüe comments might have struck a nerve with Nikki Sixx
Publish Date

Tuesday, 8 February 2022, 8:39PM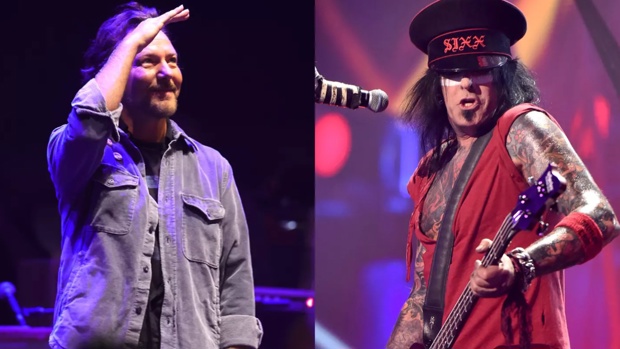 As one of the leaders of the grunge movement in the early-'90s, Pearl Jam was a big part of the new wave of rock bands credited with killing the glam rock/metal scene of the previous decade.
Eddie Vedder wasn't trying to put anyone out of work when Pearl Jam broke through, but he admitted in a new conversation with the New York Times that he wasn't sad to see glam go.
Vedder specifically mentioned Mötley Crüe as one of the "vacuous" bands of the '80s that bugged him and inadvertently spurred the progress and counterculture of the alternative scene in Seattle.
And judging by Nikki Sixx's response, the Rock and Roll Hall of Famer struck a nerve.
"Made me laugh today reading how much the singer in Pearl Jam hated @MotleyCrue," Sixx wrote via Twitter. "Now considering that they're on of the most boring bands in history it's kind of a compliment isn't it?
Sixx later added in his own comments a jab at Vedder's 'marble mouth' singing style.
Bands like Pearl Jam, Nirvana, Soundgarden and Alice In Chains are a sore spot for many '80s rockers. The rise of grunge was so sudden and so furious that many glam bands got shoved to the side by their labels and audiences, seemingly overnight.
Like Cinderella put it, "You Don't Know What You've Got Til It's Gone," and many bands of their ilk were huge stars one day only to become relics the next.
Sammy Hagar admitted that the grunge movement made him nervous for his own career. While Twisted Sister frontman Dee Snider said last year that the fall of glam was inevitable, considering how "watered down" and "predictable" the music had become by the end of the '80s.
Mötley Crüe depicted its '90s struggles in its 2019 band biopic, The Dirt.
Crüe's prospects seemed to dim in the '90s with each passing year. Its classic sound had gone out of vogue; its newer material was not readily accepted by its longtime fans.
It quickly became apparent that Mötley Crüe would never exceed the sales or success of its 1989 Dr. Feelgood album, and things didn't get any easier when Vince Neil left Mötley Crüe in 1992 to go solo.
In 1995, Sixx complained that there seemed to be a cap on Crüe's career and the band was "not allowed to grow" musically by its audience.
And while the appeal of glam rock has only gained steam in the last decade, scars of that '90s backlash remain.
Pearl Jam was inducted into the Rock and Roll Hall of Fame in 2017 and headlined the induction festivities that year. Five years later, Mötley Crüe has still never been nominated.
Sixx claimed in 2019 that his band is blackballed from the hall of fame and that he was explicitly told that they would never be inducted "because of how we've acted.
He appears to be telling the truth. Crüe was again excluded from the nominees list this year, despite coming in first place in a poll of Rock Hall visitors asking which band should be inducted next.