Welcome to ROCKTOBER - the greatest month of them all.

Be listening to Radio Hauraki all month as we celebrate the most influential and iconic rock artists of all time!

Every day of the month we'll feature a ROCKTOBER Royalty Artist including;
- Tracks from them each hour.
- A feature album deep-dive at midday each day playing the iconic songs off that album and the story behind the album. 
- A FULL album playback of the feature album at 9pm weeknights with Chris Key.
- Vinyl to giveaway every day thanks to the Great New Zealanders at Real Groovy.
- The chance to win Limited Edition ROCKTOBER t-shirts every day!

Plus, there is the chance to win a share of $11,000! - At 8am each weekday morning Matt & Jeremy will announce and then PLAY the selected ROCKTOBER Replay Refund Tune. Hear it again during the day and you could win a share of the $11,000!

Finally, every Friday of the month (starting Oct 9th) tune in for The ROCKTOBER Top 100 Countdown. Each Friday will be a different theme. 100 Bangers. Not 1900 Clangers. The Top 100 Countdown starts at 9am each Friday.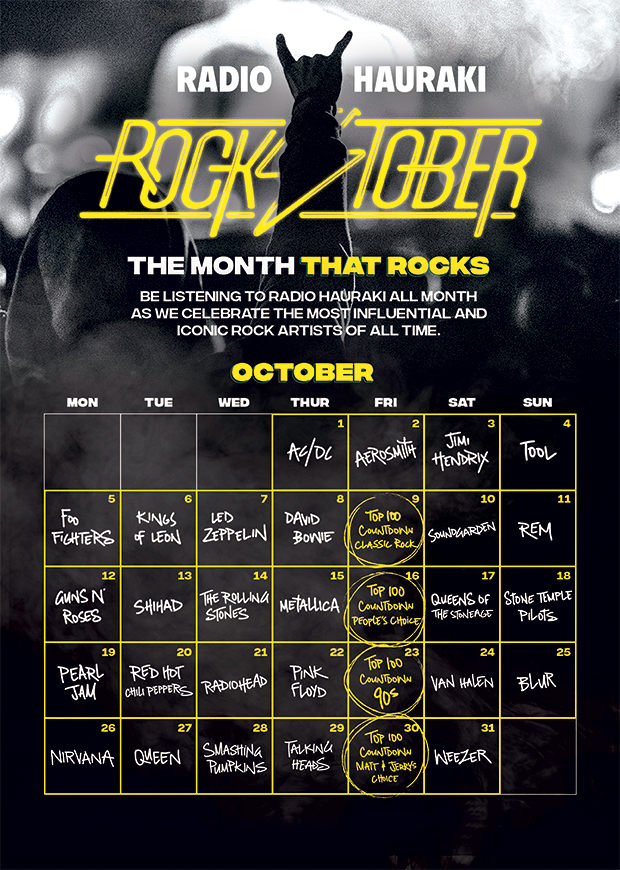 Radio Hauraki's Rocktober powered by the phone that rocks the Samsung Galaxy Note 20… giving you the Power to Work and Power to Play.

The Galaxy Note20 series is a productivity powerhouse that works like a computer and lets you game like a pro. It's like having a powerful computer that fits in your pocket with features like the Advanced S Pen which allows you to write notes and even change your handwriting to text. It also gives you access to all the tools and apps you need to stay connected and work on the go.

The Galaxy Note20 Ultra is the most powerful gaming device Samsung has ever made so you can game like a pro from your couch or commute plus there's cinema-quality video recording in 8K, 4 cameras including a 108MP wide-angle and 50x zoom. The series comes in two models. Go big with the Note20 6.7" display or go bigger with the Note20 Ultra's 6.9" display. Switch to Note!