Husband & wife share video of couple having sex on airplane
Publish Date

Wednesday, 20 June 2018, 3:52PM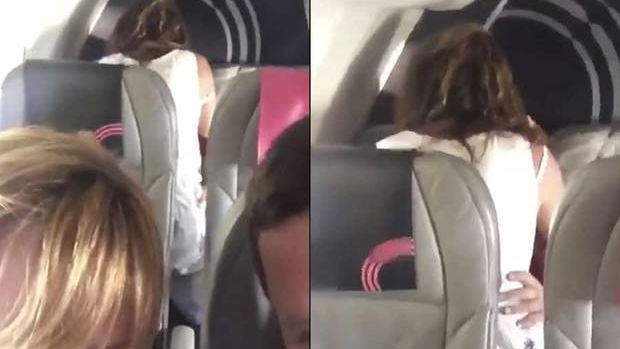 A couple on holiday got some unexpected in-flight entertainment when a couple sitting two rows behind appeared to be having sex.
The video was posted on Twitter by a Kiley Tully who claimed the video was taken by her parents on a trip to Mexico, MailOnline Travel reports.
"My mom and dad were just trying to have a peaceful trip to Mexico and then they sent me this."
Silver Airways confirmed the video was taken on one of its flights and were working to confirm its authenticity but did not condone the type of behaviour.
It seems that flying to Mexico has a certain aphrodisiac quality.
Earlier this year a pair of strangers were caught joining the Mile High Club on a packed Virgin Atlantic flight to Cancun when an air stewardess caught them mid-sex act.
The passengers - both said to be in their 20s - did not know each other before boarding the Boeing 747 at Gatwick.
They darted off to the on-board bathroom before a suspicious flight attendant opened the door - and saw the woman sitting on the toilet while the man was standing with his trousers down.
Crew were soon banging on the door to demand they come out and as the man returned to his seat, an air stewardess said: "Would you jeopardise your holiday for a b*** job?"
The pilot radioed ahead for cops to meet the flight when it landed in Mexico, when officers boarded and marched the Mile High Club woman off with her bags.
Misty Stoller, Silver Airways director of communications, said the carrier was looking at the video to determine when the incident took place.
"We are taking this very seriously and working to determine the legitimacy of the video and specific flight information," she said.
'We do not and have never flown to Mexico. Most importantly, we do not condone or tolerate this type of behaviour on our flights.'

This article was first published on nzherald.co.nz and is republished here with permission.