Trade Me ad selling Countdown sign without the "O"
Publish Date

Wednesday, 20 June 2018, 8:41AM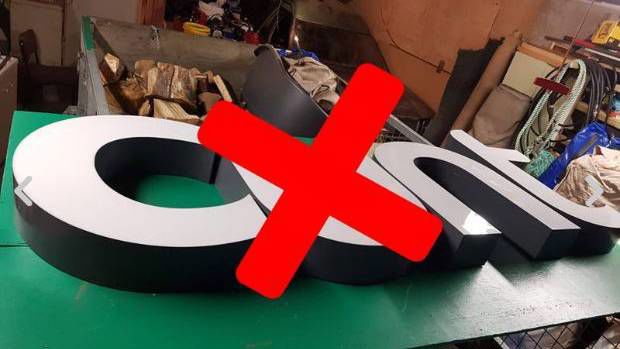 A Dunedin Trade Me user has put up a rather unfortunate yet humorous ad asking people to buy his X-rated renovated Countdown sign.
The Dunedin seller, using the name Moose17, is selling a "C U Next Tuesday" sign and says the letters were taken from a former Countdown sign that needed repairs and renovations.
The new sign, which is being promoted as a great Christmas decoration, is fitted with a 12-volt battery.
"Letters are from a renovation from Countdown," the seller wrote on Trade Me.



Trade Me
"Fixed to a sheet of ply 1200 by 2400 and wired up to alligator clips ready for a12-volt battery. Very bright.
"Awesome for that shed. Xmas decorations or to point at that c** of a neighbour.
"Couple of small chips and cracks from when it was removed but works fine."
The starting price is currently at $500 with the auction closing on Monday June 18 at 2.04pm.
Kiwis took to social media to poke fun at the sign.
"I don't know what it says... oh wait, it's some dude's name: CLINT," one person wrote.
"Pfft who wants to buy a blurry letter," another said.
Back in March visitors to country received rather amusing, and possibly offensive, welcome to New Zealand after Auckland Airport Countdown lost its "O".
The store's sign had the crucial letter missing for three days because of an electrical outage, before it was quickly fixed after the Herald reported the problem.
Kiwis took to social media to express their delight at Countdown's misfortune.
"The lighting on that 'O' has been seen to fail on a few fair of those signs around the country now... coincidence?!? If so, I applaud the person who made them with a 'flaw'," one person wrote.
Another complained about the supermarket chain's pricing, saying, "That's what their name should because of the prices they charge".
A Northcote Countdown lost its "O" last year, and took weeks to fix the issue.

This article was first published on nzherald.co.nz and is republished here with permission.