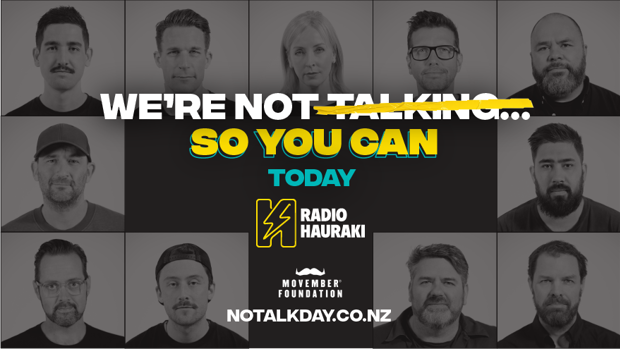 On Thursday September 10th 2020, in association with The Movember Foundation NZ, Radio Hauraki will be doing something that goes against everything that comes naturally for a radio station.
From 6am 'til midnight there'll be no shows, no ads, no news, no traffic updates and no weather reports
We're not talking, so you can.
Radio Hauraki's No Talk Day has one simple goal and that is to get Kiwi's to make mental health and indeed men's mental health part of everyday conversation. The statistics are not great. Over the last year, 654 New Zealanders took their own life. 471 of those were men.
Mental health is something we all need to manage every day, but for men in particular it is magnified, owing to the fact men just aren't encouraged to talk about how they are feeling.
As a nation we need to talk more about mental health and how we are feeling. Let's start a conversation or simply just listen. Use the time in which we aren't talking as the motivation to catch up with a mate, brother or son.
You don't even have to talk – go for a drive or kick the rugby ball around... being there is as important as talking when someone is at risk, let them know they don't have to deal with their struggles alone.
And if they're not ready to talk, thanks to our mates at The Movember Foundation NZ we have some simple documents below that will be helpful.
If No Talk Day saves one life, it will be worthwhile.

HOW TO BE A GOOD MATE

HOW TO MOVE BEYOND FEELING CRAP

Where to get help: If you are worried about your or someone else's mental health, the best place to get help is your GP or local mental health provider. However, if you or someone else is in danger or endangering others, call police immediately on 111.
Or if you need to talk to someone else: • LIFELINE: 0800 543 354 (available 24/7) • SUICIDE CRISIS HELPLINE: 0508 828 865 (0508 TAUTOKO) (available 24/7) • YOUTHLINE: 0800 376 633 • KIDSLINE: 0800 543 754 (available 24/7) • WHATSUP: 0800 942 8787 (1pm to 11pm) • DEPRESSION HELPLINE: 0800 111 757 (available 24/7) • SAMARITANS: 0800 726 666