Hauraki listeners share their favourite Big Day Out memories
Publish Date

Monday, 27 January 2020, 11:45AM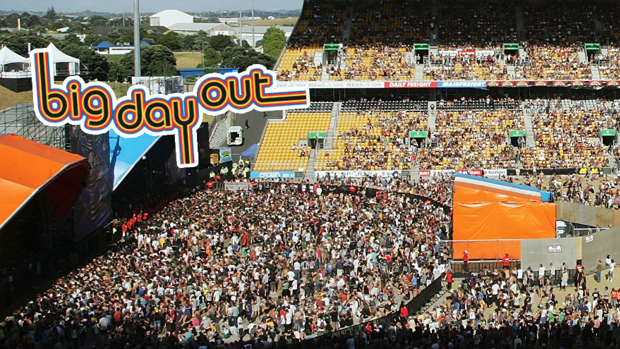 Last week we counted down the Top 40 songs of the Big Day Out as voted by the listeners of Radio Hauraki.

The countdown really brought back some nostalgia with so many great New Zealanders sharing their favourite memories of one of the most important music festivals in the history of the country.

Here's some of the emotional messages.

- A lot of BDO memories but Shihad's 2000 performance is a standout. Havo introducing them in the horsehead, Jonny Toogood breaking strings and bleeding everywhere cause he went so hard- gives me chills just thinking about in 20 years later...
- The first BDO I went to was supergrass in 97 I think? Then every one since, including one in Sydney in 2013!
- I was tripping balls on the top of the Ferris wheel on the main field for Prodigy's Firestarter! Then Rage played! Good times!
- I went in 2011 the chick I was with broke her foot during the Deftones but we stayed till the end of the night her foot looked like a rugby ball the next night we had lots of lollies that night too... 
- Kraftwerk in the Supertop 3 pills deep was face-melting.
- I was given a free yogurt sachet at the 99 Big Day Out, I don't like yogurt so I threw it at Munky's head from Korn while he was signing autographs. 
- Bring back the BDO! I remember the first time I went in 2000, road-tripped up at 17 and was my first concert ever!! Amazing and crazy. My poor young eyes even witnessed a sweaty threesome next to me in the mosh at Red Hot Chilli Peppers.
- Charge pills haha does anyone remember those horrid pills? Chino Moreno of Deftones crowd surfed on top of us and held my hand. I was so pumped he was the love of my life touched/held my hand and I tried to not wash my hand for a week but my mum made me. 
- Not sure which one BDO but home again reminds me of losing my shit on a trip with the grass turning into crawling insects EVERYWHERE loved it!!!!
- Made a potion in G Force drink bottle in 2000 that was before its time, stopped at the gate and informed no unsealed containers, given option to drink or discard and woken up by police clutching chainlink fence my next real memory.
- 2005 BDO, was in Corp box, managed to drink 25 Heinekens with my bro in law (25 each). Seeing System of a Down doing Sultans Of Swing. Efffing epic.
- Nude aerobics in the Lilly pad with Mikey Havoc.
- I went to the Big Day Out when my little girl was just 3 months old so I had to leave her with my mum. However, I was still breastfeeding so had to take my portable battery-operated breast pump with me in my backpack to the BDO and express my milk whilst sitting in a loo. Classy.
- Taste tested some of the pills I bought for the BDO the night before. Ended up staying up all night tripping major balls. Get there completely wasted. I had a disposal camera with me I held onto that thing like it was all I had in the world. The year The Strokes played. I checked the camera a few days after recovery, I didn't take a single picture. I did, however, hallucinate like a motherf*cker!
- I'm now 31, my parents took me to my 1st BDO when I was 8! I remember standing in line to get on 'The Hurricane' when I found myself slathered in vomit from above. A paralytic had spewed all over me from the ride. My Mum is such a boss, she casually took me off to the portaloos for a spruce up and we made it back to jump on Dad's shoulders for the Lemonheads. 
- Somehow made my way into the Boiler Room when Lily Allen was playing, got passed a joint and had the time of my life
- The Darkness were amazing. Hole, Peaches, Smazza Pazzas and the Beastie Boys were my highlights of the BDO's. 
- Best BDO I had was when I spent 2 hours waiting in the front row for Pearl Jam to come on, I almost peed my pants because I didn't wanna lose the spot, turned out it was totally worth it as I ended up high fiving Eddie Vedder.
- Best BDO for me 2007, my 40th and wearing a big birthday cake hat all day best party ever. 
- Still with my missus today after she smuggled drugs into the BDO in her bra, that was 2007...
- BDO 2007 drove there on half an acid tab, got there at 5 pm straight to the beer tent got a 4 pack and rolled a doobie smoked that watching slipknot I think then took another tab of acid called a mate to find me at the beer tent, more doobies, then next thing I know muse is on the stage so made my way into the fray, despite liking muse and their more distorted sound leading up to TOOL, I found myself yelling get off the f*cken stage we want TOOL, then I remembered the last time I saw muse at a Big Day Out I dropped acid so another tab another doobie then TOOL took the stage kicking off with "Stinkfist"! I was in my own little circle belting out the lyrics while doing a haka for most of their performance.
- Now a father of three and head of my social tennis team, balding and get hungover from a late night. I think back to System of a Down, The Prodigy, Dreadlocks and being 16 and not allowed in the drinking arena. Herbals and those Red Bull concentrate shots were the go, all I remember is a lot of motorboats!
- The good ol' days of sitting in a portaloo recharging for the next act and popping out sweating my ring off. 
- So many memories... good ones of Shapeshifter going off in the Boiler Room till the tent dripped, not so good turning up to the car after an epic big day to find no car... turned up in West Auckland the next day minus the mags apparently!
- Saw Rage Against The Machine live at BDO can't remember what year they seem to have all molded into one day. Absolutely epic sounded just like the albums. Tom Morello a guitar innovator amazing.
- The BDO is the place where I bit a hole clean through my tongue with the horrendous chatters in the sports hall. Good times I think the Chemical Brothers were on.
- I remember seeing my wallet fly vertically out of my pocket while on the upside down and round and round ride, it was a 2 squares day. The ride master collected everything and gave it back to me then I saw Neil Young and it was a f*cking awesome day! 
- Went to most BDOs but at one of them, I realised I'd left my goodies in the car. But once you're in the BDO they won't let you out. So faked an asthma attack and gasped to the security guard that I needed to get to my car for my inhaler. He took pity on me and let me sneak out of the gate. Half an hour later I was pogoing my ass off to Jane's Addiction whilst the sun was setting.
- Loved the dangerously strong pingers back during the early 2000s BDO
- Loved Rammstein's stage show breathing fire on the crowd peaking like f*ck
- Here's my yarn... I wanted to go to BDO 2007, I was only 16, asked my dad and he said no, told me it would be full of drugs and dodgy people. Thankfully my parents were divorced and still trying to outdo each other so I asked mum and she said yes, so we flew up from Chch, I went to the gig, had an absolute blast and 13 yrs later dad is still none the wiser, he thinks mum took us on holiday to the West Coast...
- Miss the BDO we even had our honeymoon there. Rock and Roll!
- The first couple of Big Day Out's had a massive flying fox from the top of the main stand right across the field. I remember flying over a packed throng of moshers, peaking off my head as Shihad rocked the main stage.... pretty epic!
- My favourite memory was going with a mate who decided to take a backpack with basically all his worldly possessions. In a mosh pit the bag was opened and the contents strewn across the Mt Smart turf. Good luck trying to find your wallet.
- One-time leaving the Big Day Out almost everyone at left and we were walking across the main field and tripped over a couple having sex in the middle of the field! 

Hopefully one day the BDO will make a glorious return...