"Vote Animal" billboard in West Auckland goes viral
Publish Date

Tuesday, 8 October 2019, 8:55AM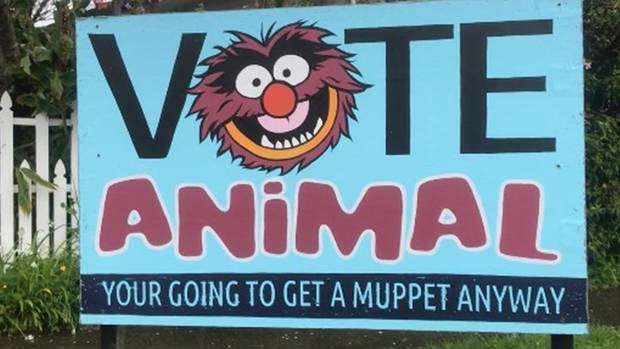 A jokester from West Auckland has created a splash after posting up a local election billboard asking residents to vote for Animal from The Muppets.
In a billboard posted along a road in Swanson, Animal is seen "entering" the electoral race with the words "Vote Animal, you're going to get a muppet anyway" plastered across the bottom.
Numerous locals have snapped a photo of the billboard and praised Animal for "keeping it real" in a time where trust in politicians and local representatives is waning.
"Truest thing I've seen on a billboard," one local man said.
Another wrote: "So deserving of the win".
"I vote Dr Teeth and The Electric Mayhem for the Licensing Trust," one woman joked.
The last day to send your voting papers in the post is Tuesday October 8, although Animal won't be in contention.
Should you miss the October 8 deadline, you can still drop them in a ballot box at any library or service centre before midday, Saturday 12 October.

This article was first published on nzherald.co.nz and is republished here with permission